Major League Baseball's 2022 Opening Day is here… again. After 14 teams played their openers on Thursday, the league's other 16 teams are all in action Friday to begin their 2022 seasons. The Yankees got their 2022 off on the right foot on the field (after not coming to an extension agreement with Aaron Judge), beating the Red Sox in 11 innings with Josh Donaldson hitting a walk-off single. The Phillies, Dodgers, Rays and Giants are among the other teams in action in the afternoon.
Friday, the schedule is a bit more robust with 12 games (which includes four non-openers). The Cubs-Brewers matchup was postponed due to inclement weather. Here's a look at Friday's scoreboard:
MLB Opening Day schedule, scores
CBS Sports will provide running news, notes, and scores throughout the day. Keep it here to soak in all the latest from Day 2 of the MLB regular season.
See New Posts
Pinned
Pinned
Pinned
Brand-new game in Philly
The Phillies, on the strength of their powerful offense and what was a good Aaron Nola outing, appeared to have opening day easily in hand. It was 6-1 before the top of the seventh. It's now 6-5. A three-run Seth Brown homer knocked Nola out of the game and the Phillies much-advertised as suspect defense committed two errors. Looks like they'll have to sweat it out, unless the offense decides to explode again. 
Pinned
Duran makes MLB debut for Twins
Jhoan Duran made his big-league debut for the Twins on Friday, and boy was he pumping gas. Over the course of his first inning of work, he threw seven fastballs. Those heaters clocked in at 99.9 mph on average. Again, that's on average. It's unclear if the Twins have given up the ghost on Duran starting again some day. For now, though, he could be a flame-throwing asset in relief.
Pinned
Pinned
Pinned
Haniger, Ray pacing Mariners early
The Mariners head into the season with decently-high expectations. They finished last season with 90 wins and had a loud offseason, exciting their fan base. It's only in the top of the fourth, but things have started modestly well. Mitch Haniger hit a two-run homer in the first inning while Robbie Ray — 2021 Cy Young winner and their huge offseason splash signing — is through three scoreless innings, having allowed just one hit. 
Pinned
Tigers win on "Wall-off" 
We're still catching our breath over the end of the game in Detroit. It was ridiculous. After a two-out, Austin Meadows triple, Javier Báez sent a shot to deep right field that looked like it might be a home run. Instead, it then appeared White Sox right fielder A.J. Pollock had the ball hit his glove, pop out and then end up back in his glove. It was ruled a catch on the field, but replays showed it hit the wall before his glove, so it was a Tigers win and Javy walk-off in his Tigers debut. 
Pinned
Pinned
Pinned
Pinned
Pinned
Pinned
Vaughn answers for White Sox
After the big Tigers comeback in the eighth, the White Sox will send things to the bottom of the ninth with another lead. Andrew Vaughn came through with the big White Sox home run. 
Vaughn homered 15 times in 417 at-bats as a rookie last season. He was the third overall pick out of Cal-Berkeley in the 2019 draft. The best bet now is White Sox closer Liam Hendriks shuts the door, but the Tigers have shown tenacity.
Pinned
Pinned
Pinned
Clutch Miggy
Miguel Cabrera's best days are far in the rearview. We know that. He knows it. But he's still capable of coming up with a huge hit in the clutch as one of the great hitters in history. He did so Friday. With the Tigers down 3-1 to the White Sox, they loaded the bases and with two outs, went to arguably baseball's best closer in Liam Hendriks. And Miggy came through: 
That is now 2,988 hits and 1,806 RBI in the illustrious career of Miguel Cabrera. He breaks a tie with Hall of Famer Sam Rice to take over sole possession of 33rd all-time in hits. Next up is the late, great Roberto Clemente with exactly 3,000. In RBI, Cabrera is 22nd, now just six back of inner-circle great Frank Robinson. 
Pinned
But the best photo from Citizens Bank Park today is…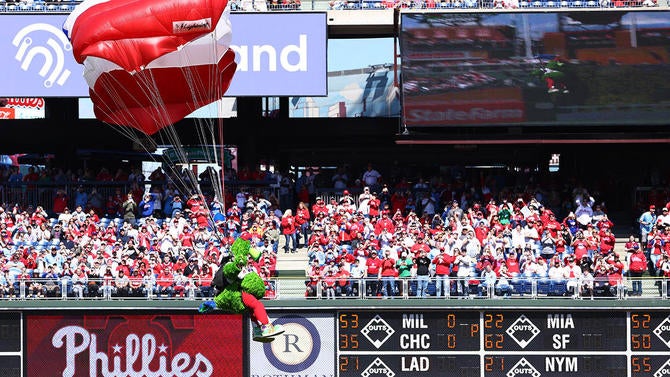 This. You can't beat this.
Pinned
Meanwhile in Philadelphia…
That new Phillies offense — the one with Kyle Schwarber and Nick Castellanos and Bryce Harper, etc. — is showing promising results so far. The Phillies lead the A's, 5-0, after a four-run third.
Pinned
Pinned
LeMahieu ties it up for the Yankees
The Yankees sat Gleyber Torres and started DJ LeMahieu at second base on Opening Day, and the decision paid off when LeMahieu took Garrett Whitlock deep to tie the game 4-4 in the eighth inning. The Yankees essentially have nine starting position players for eight spots (not counting catcher), so someone will have to sit each day. On Friday, it was Torres, and his replacement in the lineup came through with the game's biggest hit (so far).
Pinned
Schwarber leads off Phillies debut with HR
Kyle Schwarber signed a four-year, $79M deal with the Phillies in the offseason and was their leadoff man Friday. He homered in his first at-bat. Full details here. 
Pinned
Pinned
Pinned
Pinned
White Sox ace leaves with injury
White Sox starter Lucas Giolito left Friday's game after just 61 pitches through four innings. Though a four-inning outing here in the opener after abbreviated spring training shouldn't be exceedingly surprising, 61 pitches did seem a touch low. After his exit, the White Sox announced that Giolito left the game with abdominal tightness on his left side. He is "being further evaluated." 
Giolito threw the ball really well, giving up just one hit in four scoreless innings while striking out six. Any torso issues on pitchers are concerning, though, given that they need to torque their body pretty violently many times per game when they take the mound. 
The White Sox already have Lance Lynn on the injured list to start the season. The rest of the rotation, when fully healthy, includes Dylan Cease, Michael Kopech and Dallas Keuchel. 
Pinned
Red Sox regain the lead
Textbook "get 'em on, get 'em over, get 'em in" rally for the Red Sox in the top of the sixth. Alex Verdugo poked a little ground ball single through the drawn in infield to give Boston a 4-3 lead. Clay Holmes, who was so good for the Yankees last season after coming over from the Pirates at the trade deadline, got three ground balls in the inning, but two found holes and led to a run.
Pinned
Pinned
Pinned
See More