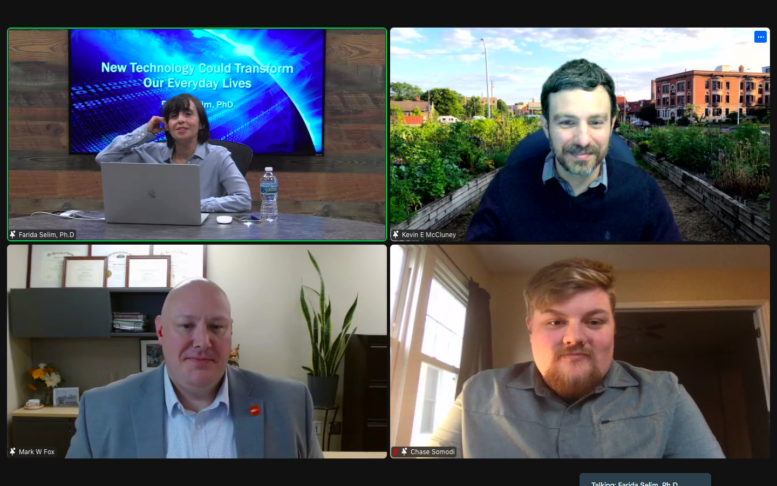 Science Café panel: clockwise from upper left, Farida Selim, Kevin McCluney, Chase Somodi, physics undergraduate student, and Mark Fox.
By DAVID DUPONT
BG Independent News
BGSU researchers are poised to assist Intel as the world's largest semiconductor maker builds a $20 billion facility in New Albany, outside of Columbus.
At the March Science Café, Farida Selim, an associate professor of physics, explained how she and her colleagues are pushing the boundaries of semiconductor technology.
[View "BGSU Science Cafe: New Technology Could Transform Our Everyday Lives" on YouTube]
This technology is essential to our lives that are increasingly dependent on computer technology. They are an "element in everything around you," she said.
There is now a shortage of semiconductors. COVID has stifled the flow from overseas leading to the push to produce more domestically. That's driving Intel's Ohio project.
Also, she said, current semiconductor technology made largely from silicon has reached its limit. "To make it more powerful, to make it smaller … we really have to find a new material." Selim said.
She and her colleagues are focusing on the possibilities of gallium oxide. "These materials come with all kinds of challenges. There is a lot of effort to modify them."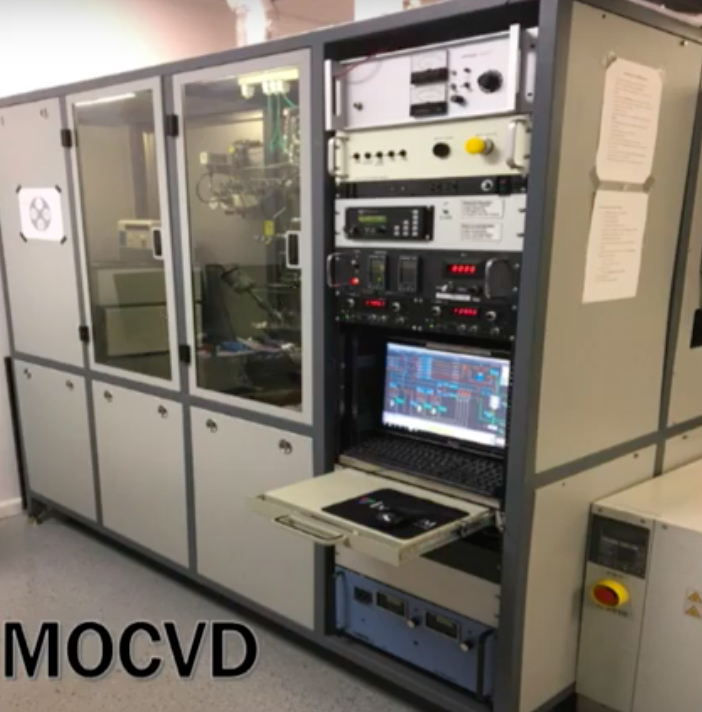 Selim is optimistic. "Science doesn't fail. It always succeeds."
Selim has a track record for innovation.
Mark Fox, the director of BGSU's Office of Technology Transfer and Services, said Selim has a couple patents already granted as well as a half dozen pending. She's "one of the most prolific" faculty members. Patents are essential in protecting the research.
"Our goal is to take these kinds of fundamental research, basic research, and to transfer them to the public good," Fox said. "So the best way to do that is partnering with industry."
Fox said that "to move forward with these new developments we have to protect this research, and we do that by filing patent applications. Intellectual property protection is important."
Those collaborations can take many forms. The company can license the research, allowing them to have access to the knowledge.
Or they can contract with BGSU faculty to conduct specific research.
What comes out of these collaborations is yet to be determined. "The imagination is our limit in these kind of things," Fox said.
The Intel project is "a  great fit for us. We can help them assess their issues and problems. We may or may not be able to help them, but in most cases we probably can."
The company, he said, will need many employees. The plant itself will employ 3,000 with an estimated 10,000 more in support operations.
[RELATED: Ohio lands Intel's next microchip factory]
That will mean recruiting students from BGSU as well as the university training Intel employees and prospective employees.
But beyond that BGSU is ready to help address the issues that manufacturers face as they strive to become more efficient in their operations, using less power, raw material, and water. 
All of this takes money. Selim said more investment into basic research is needed.
Fox said more investment is also needed to fund research into how to transform the knowledge from labs into applications in the real world.
Posted by: David Dupont on April 6, 2022.