1 min ago
Court adjourns for 30 minutes after ruling
After announcing that he would dismiss Djokovic's appeal, Chief Justice James Allsop said the court was not aware of the need for any further orders — but that the court would adjourn for 30 minutes to allow each party to consider whether any more orders are necessary.
If either party thinks a further order is necessary, the lawyers for both sides will need to meet and discuss the matter in the judge's chambers "as soon as possible," Allsop said.
4 min ago
Decision was "unanimous," chief justice says
Chief Justice James Allsop said the court's ruling to uphold the immigration minister's decision to revoke Novak Djokovic's visa was unanimous.
He began by saying the full bench of the Federal Court was not being asked to decide on the merits of the minister's decision, instead to review the legality of that decision.
"These grounds focus on whether the decision was for different reasons irrational or legally unreasonable. It is no part of the function of the court to decide upon the merits or wisdom of the decision," Allsop said.
He went on to say the amended application should be dismissed with costs.
10 min ago
Djokovic has lost his appeal. Can he still compete in the Australian Open?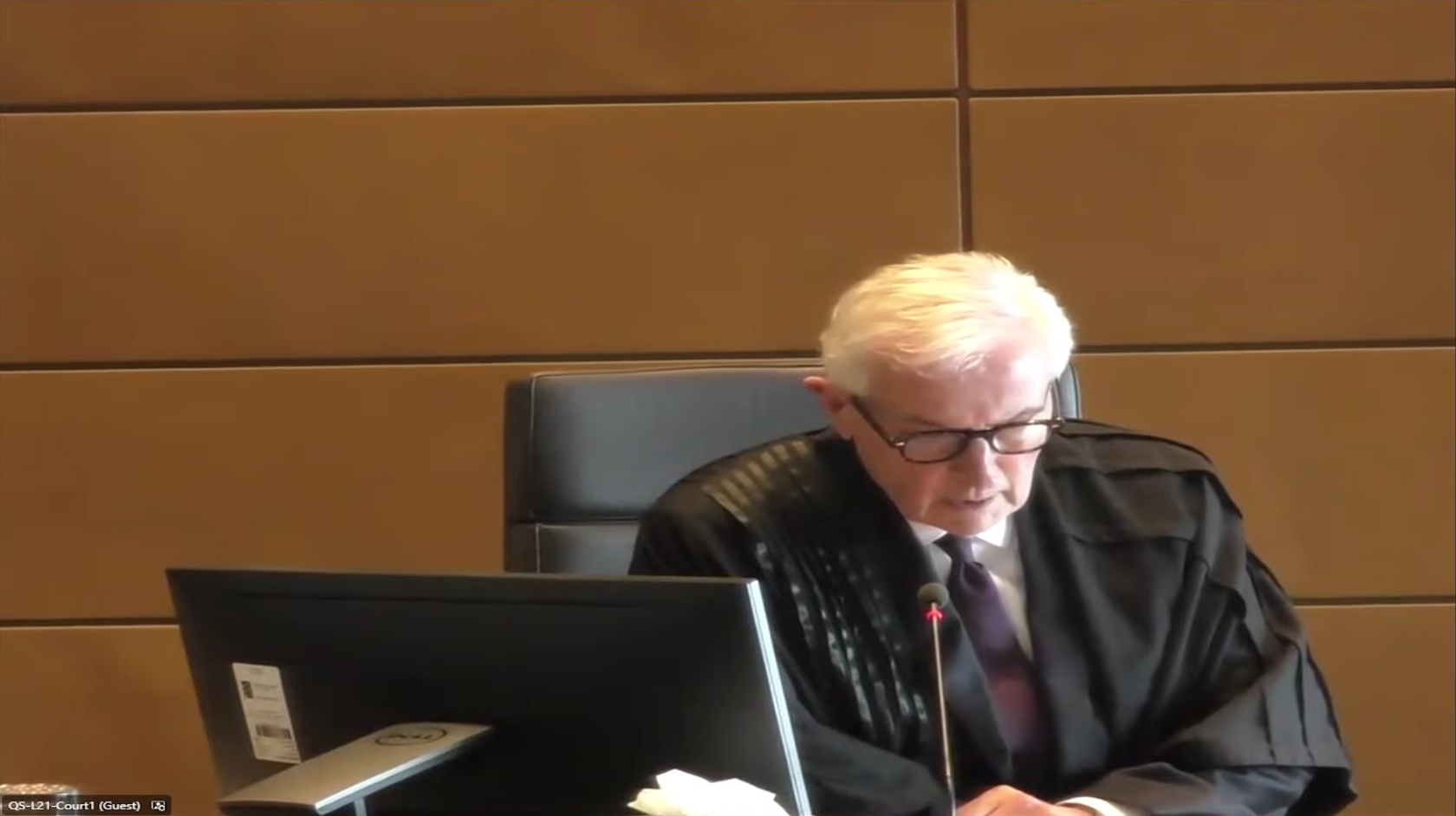 Serbian tennis star Novak Djokovic has lost his appeal against the Australian government's decision to cancel his visa for a second time.
The 20-time grand slam champion had been scheduled to play against fellow Serb Miomir Kecmanovic on Monday.
But while Sunday's decision is a setback, it isn't the end of the road yet, according to experts.
Legal options: Djokovic can still seek leave to appeal to Australia's top court, although time is running out for him to do so before the tournament begins, according to Abul Rizvi, a former deputy secretary with the immigration department.
"He may appeal for symbolic reasons but little else," said Rizvi, who added Djokovic would remain in detention until he departs.
Another visa: There's also the possibility Djokovic could get a bridging visa, which could allow him to play in the tournament while making arrangements to leave Australia, according to Maria Jockel, an immigration law specialist at BDO Australia.
But there's a hitch — the visa can only be granted by the immigration minister, the same person who canceled his visa Friday. The court could ask that Djokovic is granted a bridging visa while the case is appealed further, but ultimately the decision lies with the immigration minister.
9 min ago
Here are the judge's orders in dismissing Djokovic's appeal
The judge has just handed down his ruling to dismiss Djokovic's appeal, saying the court would not be able to provide a detailed written explanation today but would try to give one as soon as possible in the coming days.
The court's full orders are:
The amended application be dismissed with costs, such costs to be agreed, or failing agreement assessed.
Reasons to be published at a later date.
11 min ago
BREAKING: Djokovic has lost his appeal
Serbian tennis star Novak Djokovic has lost his appeal against the Australian government's decision to cancel his visa for a second time.
The 20-time grand slam champion had been scheduled to play against fellow Serb Miomir Kecmanovic at the Australian Open, which begins Monday.
It's not yet clear whether Djokovic will still be allowed to compete, with some legal options left.
24 min ago
A ruling is imminent in Djokovic's case against the Australian government
Court is scheduled to resume in the matter of Novak Djokovic versus Australia's Immigration Minister Alex Hawke.
We're expecting a decision imminently.
For this ruling, the court revoked its decision to bar the live broadcast of the hearing, due to the high level of public interest.
34 min ago
The court hearing Djokovic's case is expected to reconvene shortly
The Federal Court hearing Novak Djokovic's case has advised it will reconvene shortly.
In a post on its website, the court said it will deliver its orders at 5:45 p.m. Sunday Melbourne time — or 1:45 a.m. ET.
Full reasons will be published at a later date, the court said.
1 hr 3 min ago
The waiting game is underway as judges consider Djokovic's case
Here's where things stand on Novak Djokovic's visa saga.
What is happening right now? A hastily convened Federal Court hearing adjourned after lunch. Three judges are now considering submissions made by both parties.
When will we get a decision? That's not clear. Chief Justice James Allsop said the judges would endeavor to give some guidance later Sunday, but he said another hearing may need to be listed for Monday morning.
Isn't that a bit tight? In a word, yes. The Australian Open is set to start on Monday, with top seed Djokovic due to play his countryman Miomir Kecmanovic on Monday night.
What did Djokovic's lawyers tell the court? They're challenging the immigration minister's decision to cancel Djokovic's visa on three grounds. The first and main ground is that the minister failed to properly consider the consequences of canceling his visa.
Djokovic's lawyer Nick Wood said Immigration Minister Alex Hawke's decision to revoke his client's visa was "irrational" as he failed to consider the "binary alternative" that the act itself could galvanize anti-vaxxers.
Wood said Hawke relied on one news article from January 6 that quoted Djokovic as saying he opposed vaccination in April 2020. But Hawke didn't seek out Djokovic's current views, Wood said.
How did the minister's lawyers respond? Stephen Lloyd, acting for Hawke, said the minister didn't seek his current views because Djokovic's anti-vax attitudes were apparent by his failure to be vaccinated. He said the tennis star had plenty of opportunities to be inoculated before his arrival in Australia.
He added that the perception that Djokovic opposed vaccination was enough to risk inciting anti-vaxxers in the country. He also said the tennis star's apparent disregard for Covid-19 rules meant there was a risk others would emulate his actions and ignore public health orders.
What happens if Djokovic's visa is reinstated? We can assume Djokovic would try to put his court battles behind him and attempt to win his 21st grand slam. That doesn't mean the government will stand aside — they could choose to cancel it again on other grounds, experts say.
What happens if his visa is revoked? The option would remain open for Djokovic's lawyers to take his case to a higher court, but experts say time wouldn't be on his side, given the tournament is due to start in less than 24 hours.
Is there a potential for another twist? Experts say if Djokovic loses, the court could request the minister grants him a temporary bridging visa which would allow him to contest the Australian Open. The visa gives recipients certain work rights with conditions, and it could be enough to allow Djokovic to compete.
1 hr 14 min ago
Djokovic scheduled to play Monday night — although it's unclear if he'll be able to compete
While judges deliberate on whether Novak Djokovic will be allowed to stay in the country, the Australian Open has released its schedule for the first day of the tournament.
Top seed Djokovic is scheduled to take on fellow Serb Miomir Kecmanovic during the final match at Rod Laver Arena in Melbourne on Monday night.
But with judges still deciding whether to overturn the immigration minister's decision to revoke his visa, it's unclear whether Djokovic will be able to make that match.
The schedule was released Sunday afternoon local time, despite the unfinished court proceedings.
Judges are hoping to return a decision late Sunday, though they say the case may need to be relisted for hearing on Monday.