The digital and intangible have real value and significance, whose implications we are only beginning to see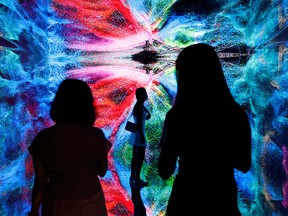 After Russia's invasion of Ukraine, western sanctions have isolated the aggressor in an astonishing and unprecedented way. Russia has been rapidly disconnected from all manner of networks, infrastructure and tools long taken from granted, sometimes literally overnight. Running through all of that is an important idea not often talked about in the context of the war: the metaverse.
No, this is not about virtual reality. But companies that pursue that, such as the Facebook parent Meta Platforms Inc., are part of the conversation. This is about how the war is unfolding across finance, technology and cryptocurrency. The impacts of that are jarring reminders that we increasingly live not in our physical world but in a whole other plane of existence, where the digital and intangible have real value and significance, and whose implications we are only beginning to see.
To unpack all that, think about the Russians who haven't directly seen the war and are confident it's not actually happening because of the media they consume, likely obtained online, curated by the Kremlin. Compare that to you and I. You've probably not directly seen the war either. But you're confident that it's indeed happening because of the online media you consume. That, too, represents a subjective reality, shaped not by the government but tech platforms and algorithms.
That's the real metaverse. It doesn't need fancy goggles. When your online world dictates your perception of reality, it's already supplanted real life. That is especially so in this war. Perception influences both western aid and opposition within Russia. That is vital because despite Ukraine's admirable resistance, the country is so outmatched that it alone is almost a nonfactor to the war's outcome. So, in a way, when platforms like Facebook de-rank Russian propaganda and make other changes, they are akin to active war participants. That's why Russia has blocked Facebook and restricted Twitter, and pundits have called this the "most online war" and even a "TikTok war."
The war highlights that the metaverse has crept into our lives long before Facebook Inc. rebranded itself to Meta Platforms — but not only that. How Big Tech has responded to the war, as the world rapidly isolates Russia, has also shown how much unchecked power they hold and will hold over us in this metaverse.
Take, for example, how Electronic Arts Inc. said it will remove Russian teams from its FIFA 22 soccer game. That might seem trivial, but FIFA 22 is no upcoming game. It's been out for half a year. It's also not subscription based. People bought the game for $79.99 each. And FIFA 22's biggest draw is arguably how characters eerily resemble real life. By releasing an update to remove Russian teams, EA will be retroactively gutting an important feature for which 325 million customers have already paid.
That reflects how software has moved over the years from being largely a product to own to a service to rent. It happened in parallel with the rise of the web giants. Both have brought utility and convenience, but the war has been a reminder that these developments have also fostered dependency.
At a Moscow subway station one day, commuters could not tap to enter when payment apps such as Apple Inc.'s stopped working. A picture of the chaos went viral. While the source of that was economic sanctions, how easily those apps stopped functioning reflects the same ease with which EA decided to remove Russian teams: it is also how easily any company can arbitrarily restrict your use of email, Spotify, every platform you hold dear and more.
People on Twitter have urged Tesla Inc.'s Elon Musk to remotely turn off the company's cars in Russia. That power of Tesla's is not new or even unique among carmakers, and there are rules against arbitrarily use. But look how quickly rules got rewritten in war. To even make that shut-off request is a sign that the metaverse is not only already here but expanding. And in that brave new world, even if we think we've bought something, we don't truly own anything and are forever renters.
Article content
Ironically, the war has also hinted at a solution. While for different reasons, fund-flows for both Russia and Ukraine have seen problems, and cryptocurrency, whose transactions can't be blocked in the traditional way, has emerged as a shining star. What's not often talked about is that crypto is about a lot more than just currency.
The goal of the Ethereum network and its like is to shape the Internet in bitcoin's decentralized way. That's an important pillar in Web 3.0, a new, still-being-defined movement that broadly seeks an online world in which users hold power, not Big Tech. While that conversation still lacks many basic details, the war could well give everything a nudge.
After all, while Musk hasn't responded to the shut-off request for Tesla cars, he did do something else equally impactful. As Internet infrastructure went down in the invasion, Musk agreed on Twitter to a Ukrainian request to help through his Starlink satellite service. That's compassionate and generous, but its implications are a little concerning.
Over the years, we have moved our lives into a new online world, and now, not only are we realizing we are serfs in this world, it's also clear that those like Musk control access to it with the stroke of a tweet.
Ethan Lou is a journalist and author of Once a Bitcoin Miner: Scandal and Turmoil in the Cryptocurrency Wild West.
Financial Post Top Stories
Sign up to receive the daily top stories from the Financial Post, a division of Postmedia Network Inc.
By clicking on the sign up button you consent to receive the above newsletter from Postmedia Network Inc. You may unsubscribe any time by clicking on the unsubscribe link at the bottom of our emails. Postmedia Network Inc. | 365 Bloor Street East, Toronto, Ontario, M4W 3L4 | 416-383-2300