Today, investors are seeing some new Janet Yellen crypto news that sounds optimistic for incoming cryptocurrency regulations in the United States. In 2022, crypto policy is beginning to take up more bureaucratic bandwidth, with policymakers now rushing to regulate digital assets in one way or another. Yellen — who has been given a key role in these regulations by President Joe Biden — now appears newly bullish on the investment class.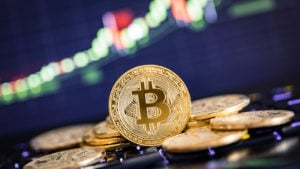 Source: Shutterstock
Janet Yellen, like all lawmakers tasked with confronting digital money, has a complicated history with crypto. Previously, Yellen was quite bearish on the asset class. Since becoming the U.S. Secretary of the Treasury in January 2021, Yellen has spoken out against digital assets. Her arguments span the usual criticisms; cryptos waste energy and can be used by criminals for illegal activities like money laundering and drug trafficking.
Immediately after assuming her role, Yellen became an enemy to crypto investors. Railing against Bitcoin (BTC-USD) in particular, she argued that cryptocurrencies weren't widely used transaction mechanisms. She also took the asset to task over proof-of-work energy consumption.
To the chagrin of crypto advocates, 2021 did not see Yellen budge much on her stance. This stoked the ire of crypto enthusiasts and bullish lawmakers alike, who thought Yellen's appointment was stifling accommodation of the assets.
Getting into the new year, things didn't seem likely to change either. In fact, people close to the matter report that Biden's crypto executive order was delayed by a dispute between White House officials and Yellen's team, who believed it to be "unnecessary."
However, now new Janet Yellen crypto commentary is standing in stark contrast to the secretary's previous statements. Today, it looks like Yellen may be switching up her tune. That's making a lot of crypto investors very happy.
Janet Yellen Crypto News Sees Treasury Secretary Adopt New Stance
In an interview with CNBC, Yellen said things that crypto bulls had been hoping to hear for a while. Although she remains skeptical of many aspects of crypto, Yellen seems to be finding the worth in digital money. "There are benefits from crypto and we recognize innovation in the payment systems can be a healthy thing," she says.
This comment is a bombshell. Just weeks ago, Yellen was in a stalemate with Biden over the executive order. As this order came out, though, it seems like it may be prompting a change of heart. After all, the order tasks Yellen with helping to lead a committee to research digital currency and Central Bank Digital Currency (CBDC) adoption. It's quite possible that, through this research, Yellen is becoming better acquainted with the positive sides of the industry.
All told, these new comments are welcome words for crypto holders. Now, many are hoping they will spark a sea change among skeptical lawmakers.
On the date of publication, Brenden Rearick did not hold (either directly or indirectly) any positions in the securities mentioned in this article. The opinions expressed in this article are those of the writer, subject to the InvestorPlace.com Publishing Guidelines.