3 hr 15 min ago
Jackson on Hawley's claim about lenient child porn sentencing: "Nothing could be further from the truth"
From CNN's Mike Hayes
Judge Ketanji Brown Jackson was asked about accusations by Republican Sen. Josh Hawley of Missouri that her record as a judge shows that she has handed down lenient sentences to convicted child pornography defendants during her career. Sen. Dick Durbin of Illinois asked Jackson to tell the committee "what was going through your mind" when deciding sentencing during these types of cases.
Jackson began her response by telling the committee that "as a mother, and a judge who has had to deal with these cases, I was thinking that nothing could be further from the truth" in regards to Hawley's accusations.
"These are some of the most difficult cases that a judge has to deal with, because we're talking about pictures of sex abuse of children, we're talking about graphic descriptions that judges have to read and consider when they decide how to sentence in these cases, and there is a statute that tells judges what they're supposed to do." 
Jackson told the committee that Congress has decided what it is that a judge has to do in these and any other cases when they sentence. "And that statute, that statute doesn't say look only at the guidelines and stop, the statute doesn't say impose the highest possible penalty for this sickening and egregious crime," Jackson said. "The statute says calculate the guidelines, but also look at various aspects of this offense and impose a sentence that is, doesn't say impose the highest possible penalty for this sickening and egregious crime." 
Jackson said that in every child pornography case "it is important to me to make sure that the children's perspective, the children's voices are represented in my sentencing." 
"And what that means is that for every defendant who comes before me, and who suggests as they often do that they're just a looker, that these crimes don't really matter, they collected these things on the internet and it's fine, I tell them about the victim's statements that have come in to me as a judge," she said. 
Judge Jackson said in the past victims have told her "that they will never have a normal adult relationship" and they have gone into prostitution, started using drugs, or developed agoraphobia and been unable to leave the house.
Jackson noted that in each of these cases where the defendants were found guilty she has imposed a significant sentence "and all of the additional restraints that are available in the law." 
"These people are looking at 20, 30, 40 years of supervision. They can't use their computers in a normal way for decades. I am imposing all of those constraints because I understand how significant, how damaging, how horrible this crime is," she said.
Some more context: Durbin noted during his remarks that the cases Hawley referred to yesterday during his statement "all resulted in incarceration of some magnitude." 
"One case, the Hilley case, I want to quote what you said on the record, this family has been torn apart, speaking to the defendant, by your criminal actions, you saw it on the faces of those women, you heard it in their voices and the impact of your acts on those very real victims who are still struggling to recover this day makes your crime among the most serious criminal offense this court has ever sentenced. And imposed a sentence of 29 1/2 years on that defendant." 
Durbin said the notion that Judge Jackson looks at child pornography cases "casually or with leniency" is belied by her record.
Last week, Hawley launched a Twitter thread charging that Jackson's record reveals a "pattern" of letting child porn offenders off the hook for their appalling crimes, both as a judge and as a policymaker. "This goes beyond 'soft on crime,'" he charged.
The White House blasted Hawley for the attacks. A White House spokesman called the tweets "toxic and weakly-presented misinformation that relies on taking cherry-picked elements of her record out of context — and it buckles under the lightest scrutiny."
Durbin said Sunday that Hawley was "wrong" and "unfair" in his analysis.
Read more about this here.
7 hr 28 min ago
Jackson declines to discuss court packing
From CNN's Dan Berman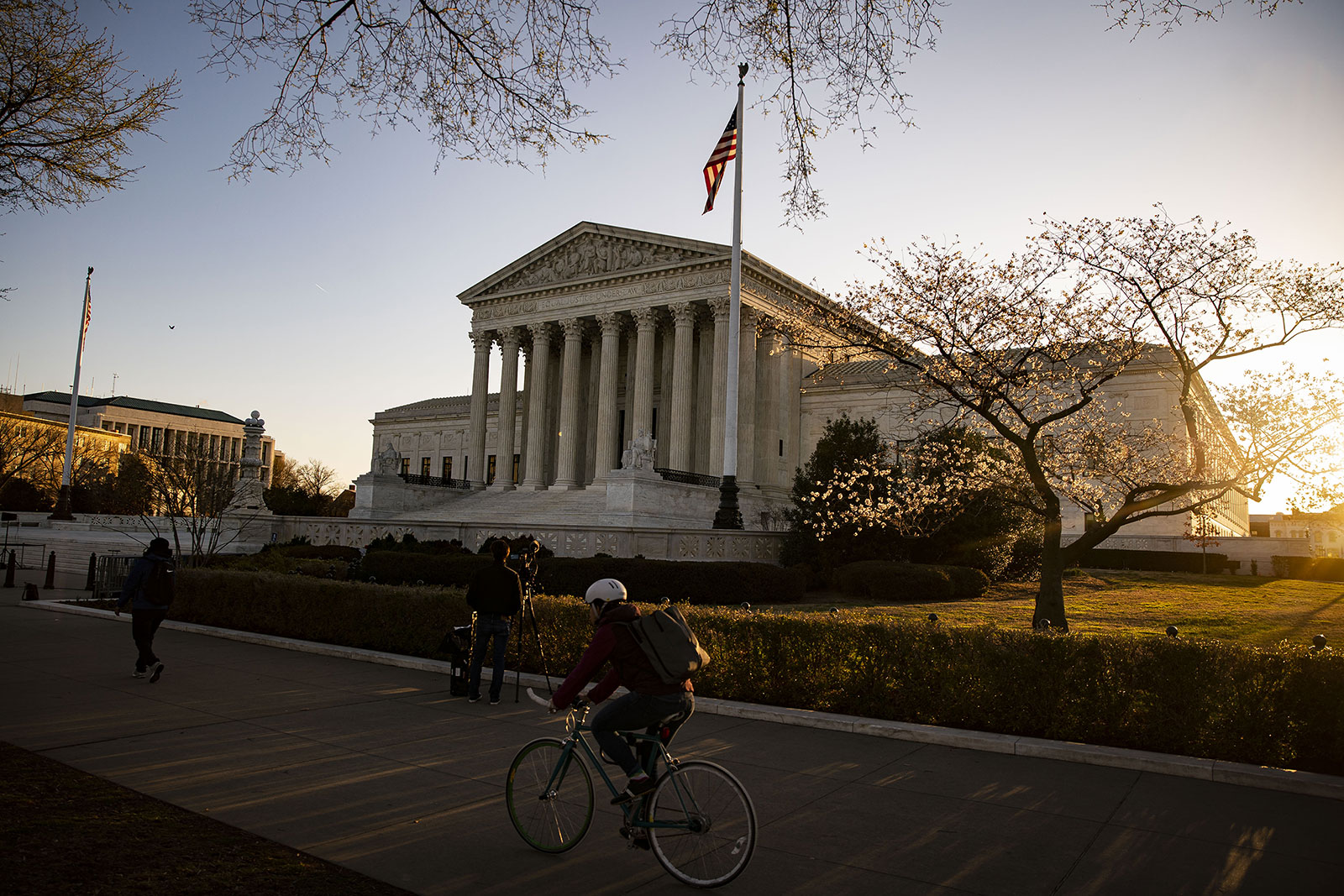 Judge Ketanji Brown Jackson, just as Judge Amy Coney Barrett did during her confirmation hearing in 2020, declined to comment on the idea of court packing, or adding justices to the Supreme Court beyond the current nine.
"My north star is the consideration of the proper role of a judge in our constitutional scheme," Jackson said Tuesday. "In my view judges should not be speaking to political issues, and certainly not a nominee to the Supreme Court."
Some context: Some Democrats have called for adding justices to the high court to counteract the current 6-3 conservative-liberal dominance, an idea that President Joe Biden has not embraced.
7 hr 40 min ago
Jackson lays out "methodology" for approaching cases and judicial philosophy
From CNN's Tierney Sneed
Judge Ketanji Brown Jackson on Tuesday outlined what she described as her "methodology" for approaching cases.
Her comments came in response to a question from Senate Judiciary Chairman Dick Durbin of Illinois, who asked her to elaborate on her judicial philosophy, as Republicans have claimed she has not yet been specific enough on that point. She said that the methodology she uses ensures that she is impartial and that she is "adhering to the limits" of her "judicial authority."
"I am acutely aware that as a judge in our system I have limited power and I am trying in every case to stay in my lane," she said.
Describing a three-step process, Jackson said step one is ensuring that she was "proceeding from a position of neutrality," adding that she clears her mind about about any "preconceived notion" for how the case should come out. Step two is taking all the "appropriate inputs" for the case — the arguments, written briefs, hearings, friend-of-the-court arguments, as well as the factual record. The final step is the interpretation of the law to the facts of the case. "This is when I am observing the constraints" on her judicial authority, she said.
In doing so, she she said she is trying "to figure out what the words mean as they were intended by the people who wrote them," while taking into precedent into account.
She will likely have to address this question multiple times Tuesday.
7 hr 58 min ago
The hearing has started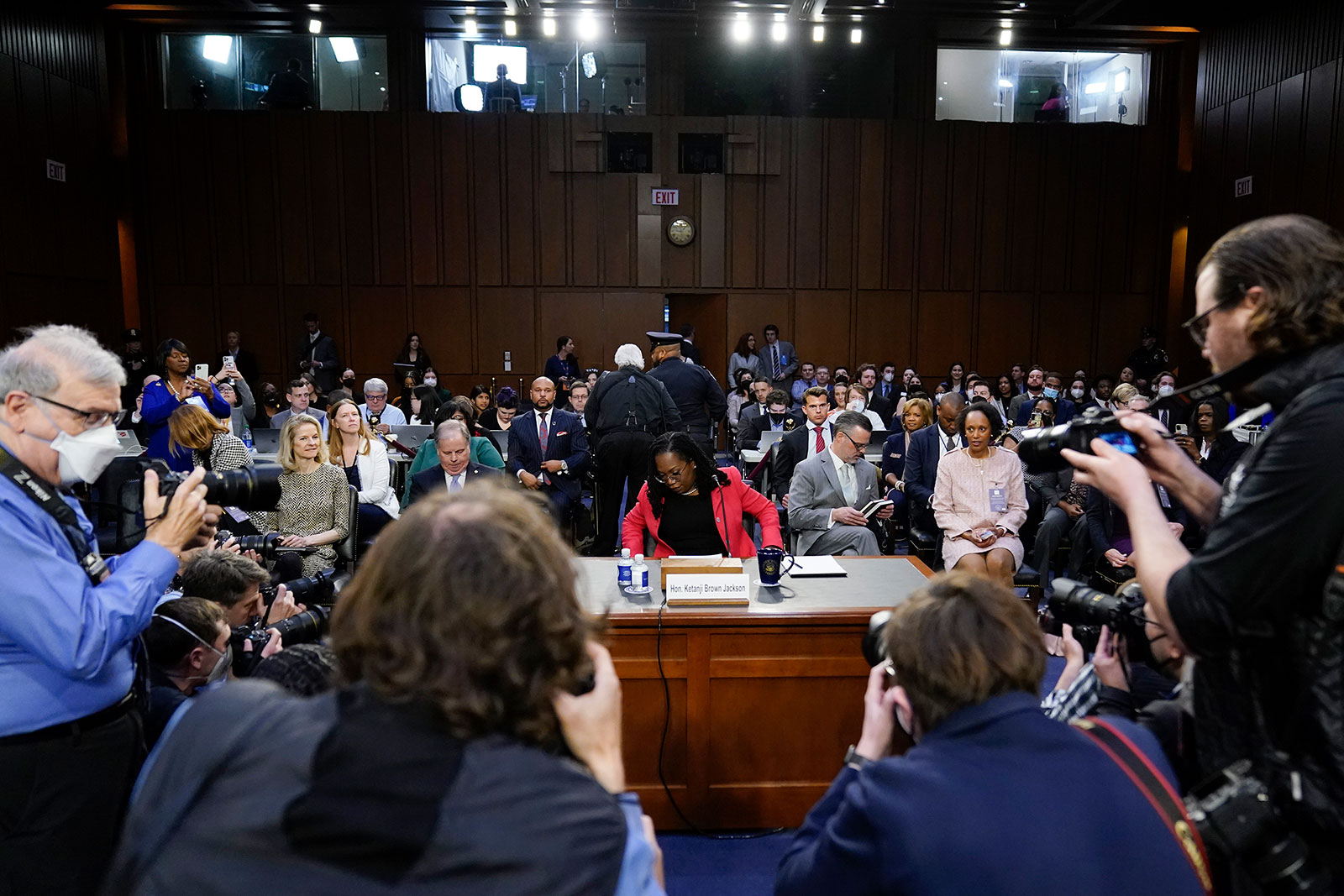 Day two of the Senate Judiciary Committee confirmation hearings for President Biden's Supreme Court nominee Judge Ketanji Brown Jackson has begun today.
Jackson, who currently sits on DC's federal appellate court, faces questions from lawmakers. She is expected to be grilled by GOP senators about her legal record, including on crime.
8 hr 28 min ago
What to know before Judge Ketanji Brown Jackson faces GOP questions
Analysis from CNN's Zachary B. Wolf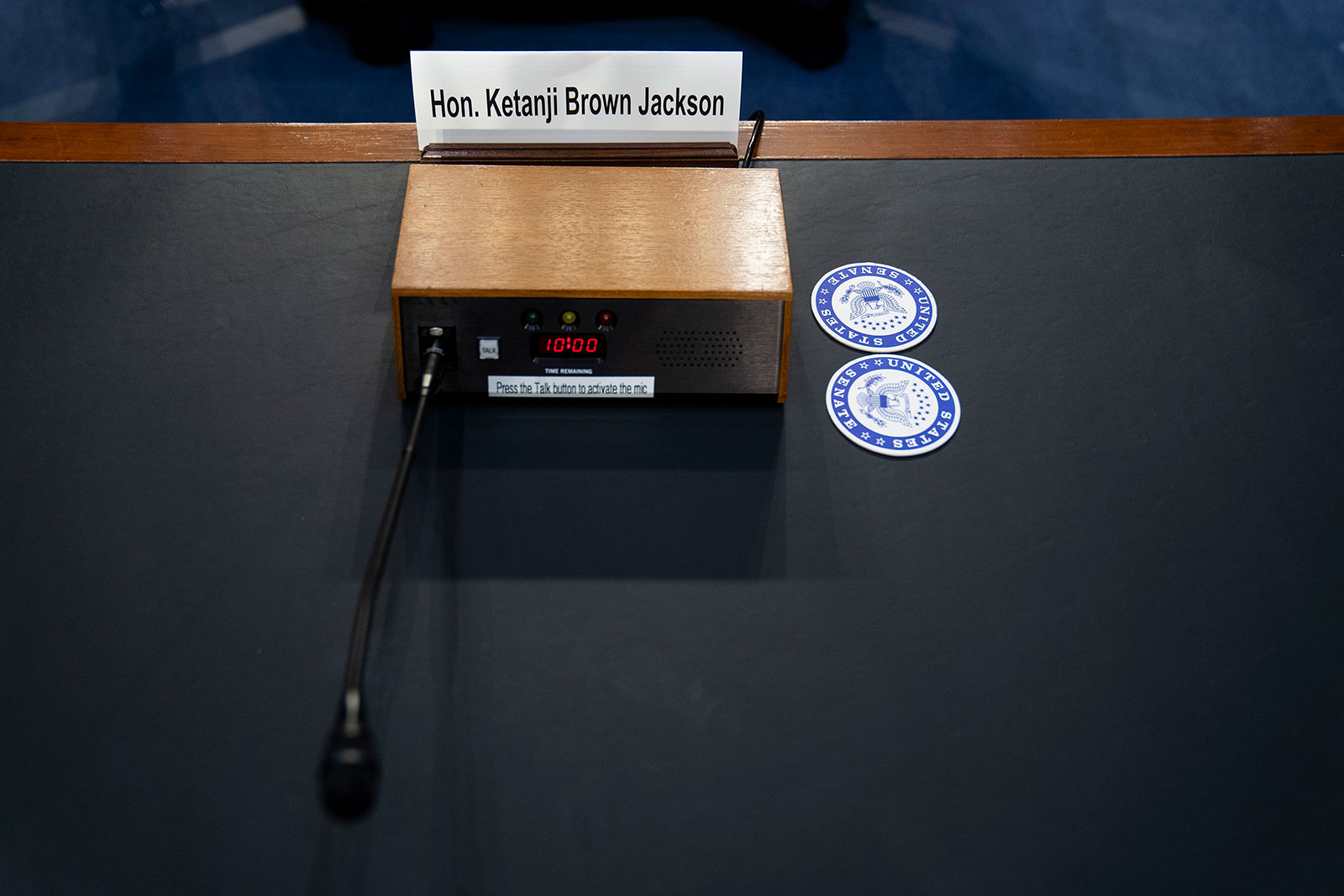 The Senate Judiciary Committee will soon begin questioning President Biden's Supreme Court nominee Judge Ketanji Brown Jackson today.
She is expected to be grilled by GOP senators on the committee. There is still grousing by Republicans that Biden promised to pick a Black woman.
Sen. Lindsey Graham of South Carolina was frustrated that Democrats have opposed Black and Latino conservatives — specifically, he mentioned Miguel Estrada, who withdrew his nomination for a lower court in 2003, and Janice Rogers Brown, who was only confirmed to a lower court after a long delay.
"So if you're a Hispanic or African American conservative, it's about your philosophy. Now, it's going to be about the historic nature of the pick," Graham said.
Graham and Sen. Chuck Grassley of Iowa both said they will pursue questions about how and why Jackson was picked and whether liberal groups had too much say. Graham was frustrated that a Black woman from South Carolina, Michelle Childs, was opposed by liberal groups. Grassley used the term "dark money" to suggest a nefarious influence campaign.
(Sidebar: The amount of money and lobbying to influence these picks — both Republican and Democratic — is remarkable, for sure.)
Brown will take questions on any number of judicial issues and hot button topics, ranging from the law of armed conflict to the current GOP buzzword "parental rights," and whether transgender women should be allowed to compete on women's sports teams.
She'll try to be as non-controversial as possible when answering them — she's told senators she doesn't have a specific judicial philosophy.
Jackson promised to be independent and transparent, but some Republicans suggested she'll need to reveal more.
"I can only wonder: What's your hidden agenda?" said Sen. Marsha Blackburn, the Tennessee Republican, in an opening statement that sought to raise doubts about Jackson's record as a judge.
"Is it to let violent criminals, cop killers and child predators back to the streets? Is it to restrict parental rights and expand government's reach into our schools and our private family decisions? Is it to support the radical left's attempt to pack the Supreme Court?" Blackburn asked.
While they are promising a respectful inquiry, Republicans will not keep things entirely out of the gutter.
Both Blackburn and Sen. Josh Hawley of Missouri have questioned Jackson's role in child pornography cases, when she handed down sentences shorter than those suggested by either the US Sentencing Commission or prosecutors.
That sounds very bad — you hear how Republicans will use it in Blackburn's quote above — but multiple fact checks, including this one by CNN, have noted the record is a bit more complicated.
One former Republican prosecutor said there is ample reason to oppose Jackson's nomination, but to allege she is soft on child predators is not one of them.
"The allegation appears meritless to the point of demagoguery," writes Andrew C. McCarthy for the National Review.
The votes Jackson needs to be confirmed: In the 50-50 Senate, Vice President Kamala Harris could break a tie and place Jackson on the bench. No Democrats have said they oppose her, and it would take a serious fumble at these hearings to endanger her nomination. It is also possible a number of Republicans will support her, but likely not enough to give her the 87 votes outgoing Justice Stephen Breyer received.
8 hr 32 min ago
Key takeaways from Ketanji Brown Jackson's first day of Supreme Court confirmation hearings
From CNN's Tierney Sneed and Lauren Fox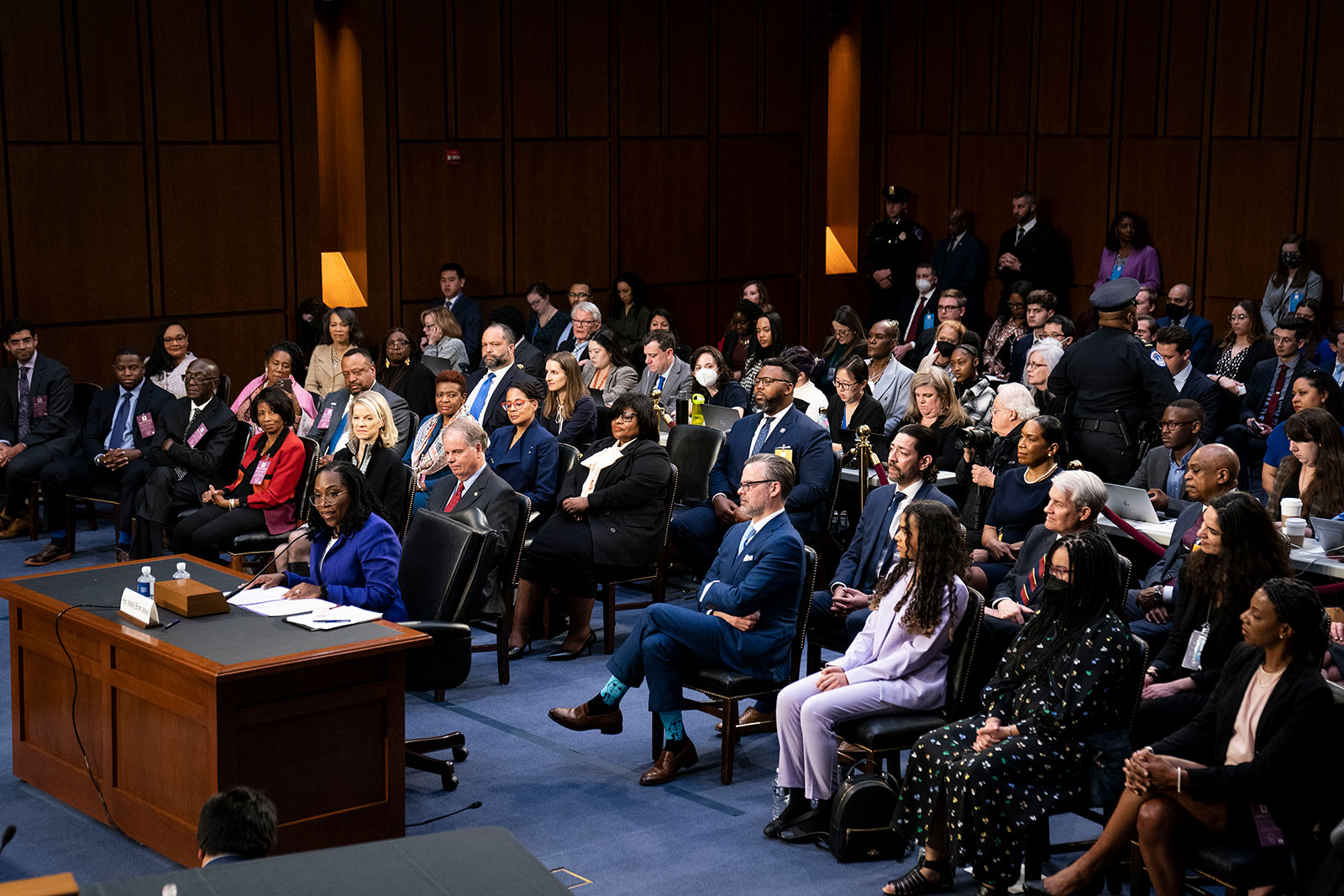 Judge Ketanji Brown Jackson's Supreme Court confirmation hearings kicked off Monday with more than four hours of speeches from senators, introductions of Jackson by two of her colleagues and remarks from the nominee herself. 
Jackson's opening statement touched on her humble background and the gratitude she felt toward those who have boosted her legal ascent. She and her supporters emphasized the "independent" approach she brings to the bench, while Senate Judiciary Committee Democrats argued her confirmation will make the high court more reflective of the country it serves. 
While they had previewed the parts of Jackson's record they intend to scrutinize, Republicans launched a series of broadsides against Democrats for how they've handled the confirmations of GOP nominees. 
Here are takeaways from day one:
Jackson leans into gratitude and humility 
Much of Jackson's opening remarks were weighted toward her upbringing, and the gratitude she felt toward her parents as well as her faith. 
As she affirmed her "thanks to God," she said, "First of my many blessings is the fact that I was born in this great Nation" in 1970, in the decade after Congress passed two major civil rights bills. 
Her name, "Ketanji Onyika," means "lovely one," she told the committee — an expression of her parents' "pride in their heritage and hope for the future." 
She recounted the interest in law she developed from watching her father study law, while praising the "excellent mentors" she had in high school and in the judges that she clerked for. 
"Justice (Stephen) Breyer not only gave me the greatest job that any young lawyer could ever hope to have, but he also exemplifies what it means to be a Supreme Court justice of the highest level of skill and integrity, civility, and grace," she said, referring to the justice she both clerked for and would replace if confirmed.
"It is extremely humbling to be considered for Justice Breyer's seat, and I know that I could never fill his shoes," she added. "But if confirmed, I would hope to carry on his spirit." 
Jackson vows "independent" approach to law, which supporters echoed
Jackson said she took "very seriously" her responsibility to defend the Constitution and her "duty to be independent." 
"I decide cases from a neutral posture," she said. "I evaluate the facts, and I interpret and apply the law to the facts of the case before me, without fear or favor, consistent with my judicial oath." 
That description of her approach comes as Republicans have criticized her refusal to align herself with a specific judicial philosophy, like originalism or pragmatism. 
On Monday, a prominent conservative judge vouched for how she approached her role as a jurist. 
"Judge Jackson is an independent jurist who adjudicates based on the facts and the law and not as a partisan," said retired Judge Thomas Griffith, a Republican appointee who served on the US Court of Appeals of the DC Circuit. "Time and again, she has demonstrated that impartiality on the bench."  
Democrats seek to make her hearing about the public's faith in the court
Democrats repeatedly reminded their public audience of the high stakes of these confirmation fights, referencing the major cases before a Supreme Court that is dominated by conservatives as they sought to connect the historic nature of Jackson's nomination to the public's faith in the court. 
As is common in these hearings, Democratic senators touched on legal issues that resonate with their base — with allusions to Supreme Court cases dealing with health care, abortion rights, gun control and the environment.  
"The American people, our constituents … and their faith in the courts, that's central to our democracy," said Sen. Patrick Leahy, a Vermont Democrat. "They lose their faith, then democracy loses. The decisions made in our courts — and ultimately in the Supreme Court — affect the daily lives of each one of us." 
Because Jackson, if confirmed, will replace a fellow liberal, her appointment on its own likely won't change the 6-3 conservative-to-liberal vote count on those various issues. But Democrats stressed other ways that Jackson — through the demographic and professional diversity she'd bring — will give the court new perspectives and enrich the confidence that Americans place in it. 
Republicans harp on the treatment Kavanaugh received from Democrats
It was more than three years ago that Supreme Court Justice Brett Kavanaugh was confirmed after a tumultuous and high-octane set of hearings that tested the Judiciary Committee's relationships. But despite time, their victory and subsequent confirmation of another conservative justice, Republicans made clear Monday they can't see Jackson's nomination without the context of Kavanaugh's.
Despite the fact that Republicans have pledged to seize on her past writings, rulings and sentences, nearly every Republican member of the panel pledged to draw a line.
"No Republican senator is going to unleash on you an attack about your character when the hearing is virtually over," Sen. Lindsey Graham of South Carolina said in his opening statement, alluding to how it was late in the process when allegations against Kavanaugh were revealed.  
Read more about key moments from Jackson's first day of Supreme Court confirmation hearings here.
8 hr 50 min ago
These are senators that will question Supreme Court nominee Ketanji Brown Jackson today
The 22 members of the Senate Judiciary Committee will have the opportunity Tuesday and Wednesday to question President Biden's Supreme Court nominee Judge Ketanji Brown Jackson for two days of hearings.
See who is a part of the committee and where they sit in the graphic below:
9 hr 17 min ago
What Biden's Supreme Court nominee might be grilled on today
From CNN's Tierney Sneed and Ariane de Vogue
Judge Ketanji Brown Jackson has already appeared before the Senate three times in confirmation proceedings for prior roles. But several days of hearings for her Supreme Court nomination this week will be the highest-profile — and likely most contentious — grilling that Jackson has faced from lawmakers.
Democrats have signaled they will highlight the historic nature of her nomination — if confirmed, she'll be the first Black woman on the Supreme Court — and her qualifications, which lawmakers of both parties have described as impressive.
But Senate Republicans say they still have questions about Jackson's record, even as they've said they'll keep proceedings substantive and dignified.
Jackson, a Harvard Law graduate who grew up in Miami, has served less than a year in her current role on the DC US Circuit Court of Appeals. Before that, she was a judge on DC's federal trial court for eight years. She also vice-chaired the US Sentencing Commission between 2010 and 2014. All three roles required her to sit for Senate confirmation testimony — in hearings that featured a more low-key tone than what is expected this week.
The two days of Jackson questioning will begin Tuesday, after a round of proceedings Monday featuring opening statements and her introduction.
Here is what might come up at her hearing:
"Soft on crime" framing: Senate Judiciary Republicans have grilled lower court nominees on criminal justice policies that they describe as soft on crime. And in floor remarks on Thursday, Senate Minority Leader Mitch McConnell previewed that focus on Jackson. His speech critiqued the praise she has received from supporters for how her experience as a public defender gives her "empathy" as a judge.
"Even amidst the national crime wave, a disproportionate share of the new judges President (Joe) Biden has nominated share this professional background that liberals say gives special empathy for criminal defendants," the Kentucky Republican said. He added that Biden "is deliberately working to make the whole federal judiciary soft on crime."
Jackson may point to her personal background to counter this attack, as she has done before. With an uncle who was prosecuted for a drug offense, and several members of her family — including her brother — who served in law enforcement, Jackson has relationships that she says have helped her see both sides of the issue.
Scrutiny of her approach to child porn offenses: An extension of the "soft on crime" attack is the claim, somewhat misleadingly made by GOP Sen. Josh Hawley last week, that Jackson is soft on child pornography crimes.
Work on the US Sentencing Commission: In addition to the commission work on child sex crimes, other aspects of Jackson's tenure there could come up. Before serving as vice chair, she served a two-year stint as an assistant special counsel for the commission in the mid-2000s.
Republicans are poring over thousands of documents for more information on the stances she took while working for the commission.
Support from groups that push Supreme Court expansion: At her 2021 hearing, several Republicans asked her about the support her nomination had received from the left-wing group Demand Justice and other progressive organizations that have advocated for expanding the number of justices on the Supreme Court. Jackson declined to weigh in on the idea.
Her refusal to answer the question in her recent meeting with McConnell, according to his account of their discussion, has prompted criticism from the Kentucky Republican.
Expect Democrats to note that Trump nominee and now Justice Amy Coney Barrett also dodged the court expansion question when she was testifying in her Supreme Court confirmation hearing.
Read about more about questions she may face here.