1 min ago
Kremlin website is being targeted by cyberattacks, spokesperson tells state media
From CNN's Vasco Cotovio in Moscow
The Kremlin website is being targeted by cyberattacks, spokesperson Dmitry Peskov told state news agency TASS on Saturday.
"Attacks are ongoing," Peskov told TASS. "[The website] often freezes."
Some Russian government websites, including the Kremlin and Ministry of Defence, have been down for a third day in a row. 
The hacking group Anonymous has claimed responsibility for the attacks.
On Friday, the same Russian websites appeared offline for a while, but the Kremlin denied it was being attacked by Anonymous, according to state media.
10 min ago
Heaviest fighting in Ukraine is "in and around Kharkiv," senior US defense official says
From CNN's Ellie Kaufman and Oren Liebermann
The heaviest fighting in Ukraine is "in and around Kharkiv," a senior US defense official said Saturday.
The official said the US saw "stiff resistance on the northern advance towards Kyiv," as well. "But the heaviest fighting we still assess is in and around Kharkiv," the official added.
Russian forces are facing the resistance to their invasion in the northern part of Ukraine along two axes, the official said: "down towards Kyiv and generally from Belgorod towards Khakriv."
Russian forces are facing "less resistance in the south," the official added.
10 min ago
US security assistance to Ukraine has arrived within "last couple of days," senior defense official says
From CNN's Oren Liebermann
US security assistance to Ukraine has arrived "within the last couple of days," a senior defense official said Saturday, indicating that US President Joe Biden's administration has continued to send in aid even after Russia launched its invasion.
"We have continued to flow assistance to the Ukrainians, even since the airspace has become disputed and contested, and we're going to continue to look for additional venues to do that," the official said on a call with reporters.
Late Friday night, the US approved another $350 million in security assistance to Ukraine. In a statement Saturday morning, the State Department announced that it would include "lethal defensive assistance" that would help Ukraine deal with armored, airborne and other threats. 
Though the senior defense official would not detail the exact types of equipment beyond Javelin anti-armor missiles, the US has provided Stinger anti-aircraft missiles to Ukraine in the last few weeks.  
The official would not say how the assistance would arrive in Ukraine. 
Since Ukraine's airspace is contested, the US has not flown any aircraft into or over Ukraine. But countries like Poland have openly stated that they have sent ammunition into Ukraine with ground convoys, one of the only viable options given the current situation.
"I think you'd have to assume that ground routes would certainly be on the list of options that we would consider," the defense official said without providing further details.
16 min ago
Russian advance in Ukraine has temporarily slowed, according to UK defense ministry
From CNN's Sharon Braithwaite in London
The speed of the Russian advance on Ukraine has temporarily slowed "likely due to acute logistical difficulties and strong Ukrainian resistance," according to the British Ministry of Defence. 
In its latest intelligence update on Ukraine, the ministry says the capture of Ukraine's capital of Kyiv "remains Russia's primary military objective."
"Russian forces are bypassing major Ukranian population centres while leaving forces to encircle and isolate them," the update added.
"Overnight clashes in Kyiv are likely to have involved limited numbers of pre-positioned Russian sabotage groups," the ministry said.
23 min ago
There have been "more than 250" missile launches by Russians at Ukraine as of this morning, US official says 
From CNN's Ellie Kaufman
There have been "more than 250" missile launches from Russian forces at Ukraine "as of this morning" eastern time, a senior US defense official told reporters Saturday.
The majority of the missile launches "continue to be short-range ballistic missile types," the official said.
Russians continue to impact "civilian infrastructure and residential areas" with these missile strikes, the official said. 
"We're not able to tell you whether those locations were intentionally targeted, but there's no doubt in our mind that civilian infrastructure and residential areas are being hit by these barrages," the official said. 
As of this morning, the US has "no indication" that the Russian military has "taken control over any cities," the official added. 
There have been "intermittent" power outages in Ukraine, but the internet is still "generally available," the official added. 
16 min ago
Biden is seriously weighing whether to support removing Russia from SWIFT
From CNN's Kaitlan Collins, Phil Mattingly, and Kevin Liptak
US President Joe Biden is seriously weighing whether to remove Russia from SWIFT, the high security network that connect thousands of financial institutions around the world, but has yet to make a final decision, according to multiple people familiar with his thinking.
The decision to trigger the action has always been contingent on sign off by the European Union, which has been split in a contentious debate for weeks over the action, ultimately choosing not to go forward this week.
But US officials and their EU counterparts have continued to weigh options, including sanctions to remove individual banks and entities, instead of the entire Russian economy, from the network, officials say.
The move would be considered the nuclear option when it comes to responses to Russia's invasion of Ukraine. Biden and his aides have highlighted how complicated blocking Russia from SWIFT would be, noting the US cannot move unilaterally. "That's not the position that the rest of Europe wishes to take," Biden told reporters Thursday.
But since Biden's press conference announcing new sanctions against Russia for its unprovoked attack, the administration appears to be moving closer to this position as other European allies have now given it their backing.
The administration has discussed the matter with the Federal Reserve, which would have a stake in any decision, according to an official. And US officials have been in talks with the European Union about a possible move. 
One administration official said additional sanctions were likely to come if Kyiv, the besieged Ukrainian capital, fell. But it wasn't clear if that would include SWIFT, or whether removing Russia from SWIFT might happen before.
A White House official told CNN that "as the President and administration officials have made clear, we are focused on coordinating with allies and partners to impose further costs on Putin for his war of choice" but declined to comment further.  
On Saturday, Italy signaled that it would support taking measures to expel Russia from the SWIFT after Prime Minister Mario Draghi told Ukrainian President Volodymyr Zelensky that "Italy fully supports the European Union's line on sanctions against Russia, including those regarding SWIFT, and shall continue to do so."
Draghi's comments are particularly notable given the Italian economy's exposure on energy, but the primary opposition to taking the action has come from Germany, officials say.
37 min ago
Former Ukrainian president: I ask the world "don't believe Putin"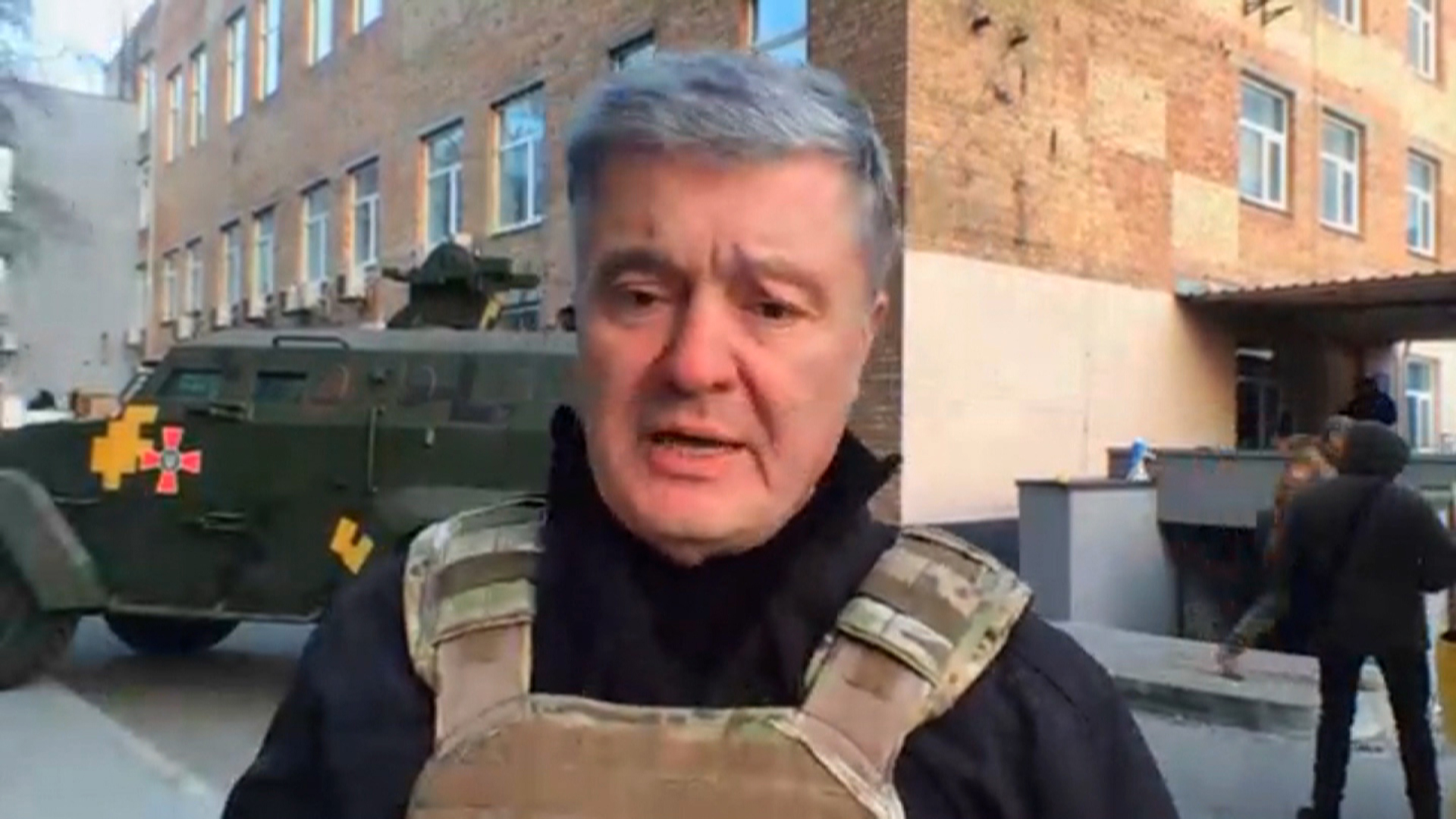 Former Ukrainian President Petro Poroshenko said the world should not trust information that Russian President Vladmir Putin and his office are relaying about negotiations with Ukraine after invading the country.
"I want to ask all the CNN viewers, all the people of the world, with one very simple request: Please don't trust Putin. Don't believe Putin. And, two, don't be afraid of Putin," Poroshenko said from Kyiv in an interview with CNN.
The Kremlin said Saturday that Putin ordered a halt Friday to the Russian military's advance in Ukraine pending negotiations, but operations resumed after the government in Kyiv allegedly refused talks. A Ukrainian presidential adviser denied in the early hours of Saturday that Ukraine had refused to negotiate.
Speaking to CNN on Saturday, Poroshenko also brought up Malaysia Flight 17, which was shot down over eastern Ukraine in 2014 by a surface-to-air missile, killing nearly 300 people. Western officials and a Dutch-led investigation said Putin bears responsibility for the incident, but Putin has denied it. 
Poroshenko was asked about Ukrainian President Volodymyr Zelensky's refusal to accept an offer from the United States of evacuation from the capital city Kyiv, according to the Ukraine embassy in Britain.
"I think that now it's a decisive moment for my nation. And every single person make a decision for themselves," Poroshenko said about the current president's decision.
Poroshenko also said he is willing to die if necessary and is proud of his people and country.
"If I'm ready, unfortunately, yes. I hate the idea to be my country occupied and I think that we should do our best to protect the nation, to protect the nation against Russian aggressor, definitely bring the risk … Everybody here," he said, pointing to defense troops behind him, "all the young and old people fully understand that we have this risk." 
"But many, the biggest part, make a decision to take the rifle and to protect the nation. I'm proud for these people. I'm proud of this country. And I'm proud to be Ukrainian," he said.
18 min ago
Kyiv will be under a strict curfew until Monday
From CNN's Tim Lister in Kyiv
The mayor of Kyiv has extended a citywide curfew until Monday morning as Russian troops advance on the capital. 
The curfew will run from 5 p.m. to 8 a.m. local time nightly "for more effective defense of the capital and the security of its inhabitants."
Mayor Vitali Klitschko had initially set the curfew to run until Sunday morning, "for more effective defense of the capital and the security of its inhabitants." 
In the latest order, citizens are prohibited from all movement of vehicles except for those with special passes. 
"We remind you that all civilians who will be on the street during the curfew will be considered as members of the enemy's sabotage and reconnaissance groups," the order said. "In case of air alarm, follow to the nearest shelter. Metro stations operate in shelter mode. If necessary, the seals can be lowered at the stations." 
48 min ago
4 more countries ban Russian airlines from their airspace
From CNN's Sharon Braithwaite
Estonia, Romania, Lithuania and Latvia will ban Russian airlines from their airspace, the countries announced Saturday.
"We invite all EU countries to do the same. There is no place for planes of the aggressor state in democratic skies. #StandWithUkraine," Estonian Prime Minister Kaja Kallas tweeted Saturday.
"Unprovoked & unjustified Russia attack on Ukraine brings serious consequences," the Romanian delegation to NATO tweeted.  
Latvia made the decision to close its airspace such a decision in coordination with its neighbors Lithuania and Estonia, the government said Saturday in a statement.
"Lithuania is joining Latvia and Estonia in banning Russian aircraft from its airspace", Lithuanian Transport Minister Marius Skuodis said Saturday.
The UK, Poland, Moldova and the Czech Republic all previously closed their airspace to Russian airlines following its attack on Ukraine.
You can read more about how Russia's invasion of Ukraine is impacting travel here.