1 min ago
Japan will sanction Putin and prime minister "indicates" nation will join Russian SWIFT ban, NHK reports 
From CNN's Jennifer Deaton
Japan will freeze the financial assets of Russia's President Vladimir Putin "and other key government officials" following Russia's invasion of Ukraine, Prime Minister Kishida Fumio said, according to Japan's public broadcaster NHK.
Prime Minister Fumio said Russia's actions are a violation of international law that Japan strongly condemns, NHK reported Sunday.
He also said a united response was needed to safeguard international order, NHK reported.
Prime Minister Fumio also "indicated that Japan will join the United States and European countries in blocking selected Russian banks from the SWIFT international payment network," NHK said.
The prime minister also said Japan will provide an additional $100 million in emergency humanitarian aid for the people of Ukraine, in addition to a prior pledge amounting to 'about 100 million dollars,' NHK reported.
SWIFT is the high-security network connecting thousands of financial institutions worldwide. Read more about it here.
12 min ago
European Union needs to prepare for millions of Ukrainian refugees, EU Home Affairs commissioner says
From CNN's Maddie Araujo in London
The European Union Commissioner for Home Affairs Ylva Johansson said on Sunday that the EU needs to prepare for millions of Ukrainian refugee arrivals.
"It's very difficult to guess how many, but I think we should be prepared for millions," Johansson said. 
She added that so far "around 300,000 Ukrainians have come to the EU member states." 
Interior ministers from across the EU are meeting in Brussels to discuss the fallout from the crisis in Ukraine.
Johansson said she will "launch a solidarity platform" to coordinate the different kind of support that member states will need, and "to Ukrainians that are fleeing Ukraine."
17 min ago
NATO secretary general: Putin's nuclear readiness move is "dangerous rhetoric"
From CNN's Allegra Goodwin in London
Russian President Vladimir Putin's order for his country's deterrence forces — including nuclear arms — to be placed on high alert, is part of a "dangerous rhetoric," NATO Secretary General Jens Stoltenberg told CNN's Dana Bash on Sunday.
"If you combine this rhetoric with what they're doing on the ground in Ukraine, waging war against an independent sovereign nation, conducting a fully-fledged invasion of Ukraine, this adds to the seriousness of the situation," he continued. 
The Secretary General added, "That's the reason why we both provide support to Ukraine, but also why we over the last weeks and months have significantly increased the presence of NATO in the eastern part Alliance, US but also European allies are now stepping up with more troops, more ships, more planes, and why we also have to realize that we are now faced with a new normal for our security."
He went on to say this was "just the beginning of the adaptation that we need to do as response to a much more aggressive Russia."
13 min ago
Turkish foreign minister: Turkey recognizes the Russian invasion to Ukraine as "war"
From CNN's Isil Sariyuce in Istanbul
Turkish Foreign Minister Mevlüt Çavuşoğlu said on Sunday that Turkey has decided that Russia's invasion to Ukraine is a "war". 
"Is this a conflict or a war? We decided on that. Article 19 of the Montreux Convention is very clear. This is a war." he said in a live interview to CNN Turk. 
Turkey's recognition is important for the application of 1936 Montreux Convention that regulates naval passage through the Turkish straits.
The Montreux Convention gives Turkey certain control over the passage of war ships from Dardanelles and Bosporus Straits that connect the Aegean, the Marmara, and the Black Sea. 
In peace times war ships can pass the straits by prior diplomatic notification with certain limitations about the weight of the ships and arms they carry depending on the ship if it belongs to is a Black Sea country or not. 
During wartime, when Turkey is not at war, warships can use the straits except for those belonging to belligerent states. 
According to the convention, if Turkey is a party of the war or considers itself threatened with imminent danger of war, it can shut down the straits to the passage of warships that have a coast onto the Black Sea or not.
However, as Çavuşoğlu mentions the article 19 of the Montreux Convention provides an exception. The war ships of belligerent countries can return to their base of origin in Black Sea. 
"Now this conflict has turned into a war, in this case, this is how we apply Montreux for the parties, Russia or Ukraine. Article 19 provides an exception. If the ship of the war country will return to its port, an exception is made. We will implement all the provisions of Montreux with transparency."
This means even if Turkey bans, Russian and Ukrainian ships can return to their base of origin. Çavuşoğlu said when applying the exception countries should abuse the clause. And added "I explain Montreux and Turkey's position."
More background: The Montreux Convention, signed in 1936, gives Turkey control over the passage of vessels through those two key straits. In peacetime, civilian vessels can pass freely, although there are certain restrictions on the passage of ships not belonging to Black Sea countries. 
Black Sea nations — which, along with Turkey, Russia, and Ukraine — also include Bulgaria, Georgia and Romania. 
Warships can navigate through the straits during peacetime, but under conditions that restrict aggregate tonnage depending on if they are or are not a Black Sea country and limits the duration of stay in the Black Sea for non-Black Sea nations. There are also limitations on the caliber of weapons they can carry, and Turkey needs to be notified of the request.
30 min ago
Putin has used two-thirds of Russian total combat power amassed for invasion, US defense official says 
From CNN's From Ellie Kaufman
Russian President Vladimir Putin has used two-thirds of the Russian total combat power "he applied to this invasion," a senior US defense official told reporters Sunday.
This "still means he has a third outside Ukraine, which is not insignificant," the official said.
The US has assessed that "as of this morning" Russian forces "have launched more than 320 missiles."
The majority of those missiles are "short-range ballistic missiles," the official added.
40 min ago
Spain will close airspace to Russian airlines
From CNN's From Al Goodman in Madrid
Spain will close its airspace to Russian airlines, according to the Spanish Ministry for Transport. 
The Ministry for Transport announced the move in a tweet Sunday saying the country would "proceed to close its air space to Russian airlines" following the European Union's directives of cooperation. 
Spain joins a slew of other countries that have closed their airspace to Russian airlines this weekend in the wake of Russia's invasion of Ukraine, including Germany, Italy, France and Canada.
34 min ago
Czech Republic joins Poland and Sweden in refusing to play Russia in 2022 World Cup qualifiers
From CNN's Wayne Sterling
The Czech Republic football national team has joined Poland and Sweden in refusing to play Russia in a potential match at the upcoming men's 2022 FIFA World Cup qualifiers in protest of Russia's invasion of Ukraine.
"The Czech FA executive committee, staff members and players of the national team agreed it's not possible to play against the Russian national team in the current situation, not even on the neutral venue," the Czech team wrote on Twitter Sunday. "We all want the war to end as soon as possible."
Poland and Sweden, individually, made their announcements on Saturday.
See the tweet:
More context: Russia is scheduled to host Poland in a playoff semifinal on March 24. The game is due to be held at the VTB Arena in Moscow.
The winner of the Poland-Russia match would host either Sweden or Czech Republic on March 29 in the final of their World Cup qualification route.
Read more about this here.
45 min ago
Ukraine's ambassador to US: "We're ready for peace talks, we're not ready to surrender"
From CNN's Aaron Pellish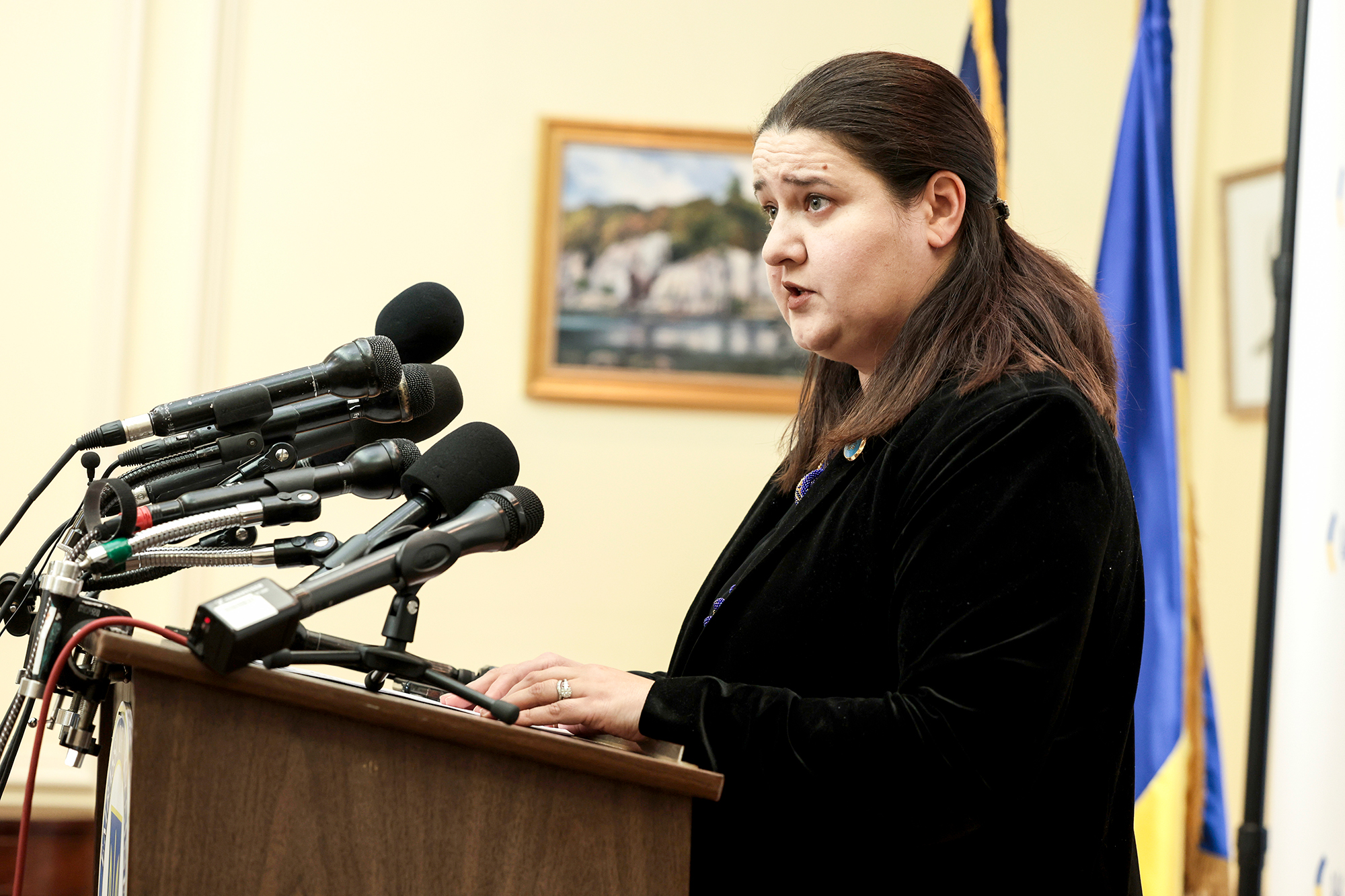 Ukrainian Ambassador to the US Oksana Markarova welcomed the news of talks with Russia as a possible way to end the Russian invasion of Ukraine but added her home country is "not ready to surrender." 
Markarova said in an ABC News interview on Sunday Ukraine's focus has always been on using diplomacy to resolve the conflict between Russia and Ukraine in response to news Ukraine has agreed to meet with Russian negotiators at the Ukrainian-Belarusian border. 
"Our president, from the beginning, even before the war started, always focused — was focused on the diplomatic solution," Markarova said. "And even after the war started, he actually called for peace talks all the time, but he always said, we're ready for peace talks, we're not ready to surrender," she said.
Markarova also called on the West to offer more military aid to the Ukrainian military and pushed the US and its allies to issue further sanctions on Russia. Markarova also called on US businesses to consider divesting from Russian businesses and financial institutions. 
"We are grateful for everything that is there already and that is about to come, and we need more because we are defending our country against a very strong enemy. We also need sanctions, more sanctions, and we need Russia to clearly see that and feel that it's not okay in the 21st century, to attack another country, a sovereign country without any reason," Markarova said. 
"And I also would like to use this opportunity also to call on American business," Markarova added. "I think it's time to think about saving reputations and not cooperating with a regime that will end up in The Hague for everything they've done and they're doing now to Ukraine," referring to the International Court of Justice where alleged war crimes are heard," she said.
Background: On Saturday, the White House, alongside the European Commission and other allies, announced their intent to expel some Russian banks from the international banking network SWIFT and target the Russian Central Bank with severe sanctions. 
Markarvoa also gave an update on the safety of Ukrainian President Volodymyr Zelensky, saying he is "as safe as our country." 
 "He is as safe as our country, and that's the choice he made to stay in Kyiv, to stay in Ukraine and lead the nation in this very difficult moment," Markarova said.  
1 hr 5 min ago
Ukrainian foreign minister: Putin's nuclear readiness move attempts to put pressure on Ukraine
From CNN's Ivana Kottasova in Kyiv
Ukrainian Foreign Minister Dmytro Kuleba said Sunday that Russian leader Vladimir Putin's order to put Russian deterrent forces on alert was an effort to raise pressure on the Ukrainian delegation at Monday's scheduled talks.
"As you notice, this order by President Putin came shortly after the announcement was made about the two delegations ready to meet. And we see this announcement this order, as an attempt to raise stakes and to put additional pressure on the Ukrainian delegation," Kuleba said a briefing in Kyiv.
Kuleba added, "But we will not give into this pressure" and said, "We will approach this talks with a very simple approach."
Kuleba indicated that Ukrainian officials are willing to "listen to what Russia has to say."
"We will tell them what we think of this. And what we are ready to discuss is how to stop the war and the occupation of our territories. Full stop,'" the foreign minister said.
Kuleba said Putin's decision "to put on high alert his nuclear weapons is a direct threat to us. I have very simple message. It will be a catastrophe for the world, but it will not break us down."