8 min ago
Mayor of Velykoburlutska in northeastern Ukraine "captured" by Russian forces, Kharkiv official says
From Josh Pennington and Hira Humayun
Viktor Tereshchenko, mayor of Velykoburlutska in Ukraine's northeastern region of Kharkiv, has been captured by Russian forces according to a video message from Oleh Syniehubov, Kharkiv Regional State Administration head, on Thursday.
"We have news today that [the Russians] captured the head of the Velykoburlutska community, Viktor Nikolaevich Tereshchenko. Such people need to have security. Victor Nikolaevich was kidnapped simply from his workplace and taken to the local police station. They are holding him and will not release him," Syniehubov said.
The locals condemn the act, he added, and said he is working to free the village leader as soon as possible.
"Soon our occupied territories will be ours again," he said.
While Russian forces have not taken Kharkiv, they "continue their terror against the civilian population, in particular against the heads of territorial communities of Kharkiv region today," Syniehubov said.  
This comes a day after the mayor of Melitopol, Ivan Fedorov, who had been captured by Russian forces, was freed as part of a prisoner swap.
43 min ago
WHO: 12 people have been killed in at least 43 attacks on health care facilities in Ukraine
From CNN's Laura Ly
At least 12 people have been killed and 34 people have been injured in at least 43 attacks on health care facilities in Ukraine, World Health Organization Director-General Dr. Tedros Adhanom Ghebreyesus said Thursday. 
There are health workers among the casualties, Tedros said in his remarks to the UN Security Council. 
"Attacks on health care are a violation of international humanitarian law – anytime, anywhere. They deprive people of urgently-needed care and break already strained health systems. That is what we are seeing in Ukraine," Tedros said. 
Mental health services are also being greatly affected by the conflict, with more than 35,000 mental health patients in Ukrainian psychiatric hospitals and long-term care facilities, "which are facing severe shortages of medicines, food, heating, blankets and more."
Tedros said the war in Ukraine is also exacerbating the impact of the Covid-19 pandemic in the country. 
"Declining rates of testing since the start of the conflict mean there is likely to be significant undetected transmission. And with less than 40% of the adult population fully vaccinated, this increases the risk of large numbers of people developing severe disease," Tedros said. 
WHO has sent about 100 metric tons of medical supplies to the region, including "oxygen, insulin, surgical supplies, anesthetics, and blood transfusion kits – enough for 4,500 trauma patients and 450,000 primary health care patients, for one month. Other equipment, including oxygen generators, electrical generators and defibrillators have also been delivered, and we are preparing to send a further 108 metric tons," Tedros said.
Although WHO has more critical supplies ready for UN convoys attempting to enter regions in Ukraine, they have not been successful, the director-general said.
"For example, the UN convoy to Sumy that included a WHO truck carrying critical medical supplies was unable to enter. Loads ready for Mariupol remain in staging areas and cannot proceed. Access to these, and other areas, is now critical," Tedros said. 
Tedros ended his remarks by stating that while Ukraine is "rightly the focus of the world's attention," he urged the council "not to lose sight of the many other crises in which people are suffering," including millions of people still suffering in Afghanistan, Ethiopia, Syria, and Yemen. 
50 min ago
US Senate unlikely to act on House-passed Russia energy import ban
From CNN's Manu Raju
Even though the US House passed a bill last week to impose a ban on Russian energy imports, Senate sources say it's unlikely their chamber will move on the measure.
That's because senators view the issue as essentially moot after US President Joe Biden took executive action to ban the imports.
Moreover, Sen. Joe Manchin, who chairs the Senate Energy Committee, has contended that the House bill is weaker than the executive action — so they see little reason to move on a measure viewed as falling short of the current policy.
The Senate, however, will move quickly — likely next week — to pass the House's bill that would nix Russia's and Belarus' normal trade status with the United States. That measure passed the House overwhelmingly Thursday afternoon. 
31 min ago
US citizen killed in Ukraine identified as James Whitney Hill, adviser to Ukraine's interior minister says
From Frederick Pleitgen and Andrew Carey in Lviv
The US citizen killed in Chernihiv Thursday has been identified as James Whitney Hill, born June 27, 1954, in Minnesota.
The name was provided to CNN by Anton Gerashchenko, an adviser to Ukraine's Interior Minister.
Hill was among several people killed when Russian artillery opened fire on civilians in the city, according to city officials.
Earlier today, US Secretary of State Antony Blinken confirmed a US citizen had died in Ukraine but he said he had no additional details to share.
1 hr 10 min ago
US House passes bill that suspends normal trade relations with Russia and Belarus 
From CNN's Clare Foran and Kristin Wilson
The US House just passed a bill that suspends normal trade relations with Russia and Belarus — the latest effort by US lawmakers to inflict economic pain on Russia for its unprovoked and brutal invasion of Ukraine
The final vote was 424-8 with strong bipartisan support for the legislation, which will next head to the Senate.
Republicans Chip Roy of Texas, Tom Massie of Kentucky, Lauren Boebert of Colorado, Andy Biggs of Arizona, Matt Gaetz of Florida, Dan Bishop of North Carolina, Marjorie Taylor Greene of Georgia, and Glenn Grothman of Wisconsin voted against the bill. 
It was introduced by House Ways and Means Chair Richard Neal, a Massachusetts Democrat, along with the panel's ranking GOP member, Rep. Kevin Brady of Texas.
Neal and Brady said in a joint statement on Thursday, "We must do all we can to hold Putin accountable for senselessly attacking the Ukrainian people and undermining global stability. The suspension of normal trade relations is an essential part of our effort to restore peace, save lives, and defend democracy."
Senate Majority Leader Chuck Schumer said in floor remarks Thursday morning that he would work quickly to move the bill through the Senate once it passed in the House and that he expected the legislation would have "broad bipartisan support."
"Both parties remain united in sending Putin a clear message: His inhumane violence against the Ukrainian people will come at a crippling price and today's step by the House is another way we're making that come true," Schumer said. 
More context: Approval of the legislation by the House comes one day after Ukrainian President Volodymyr Zelensky made an emotional appeal in a virtual address to Congress for increased US assistance as the country faces deadly ongoing attacks from Russia.
US President Joe Biden announced last week that the US, along with the G7 and European Union, would call for revoking "most favored nation" status for Russia, referred to as permanent normal trade relations in the US. The status means two nations have agreed to trade under the best possible terms, which can include lower tariffs and fewer barriers to trade, Biden said. Such a move requires approval from Congress.
36 min ago
Thick smoke over Kharkiv after shelling hits giant market
From CNN's Olga Voitovych and Andrew Carey in Lviv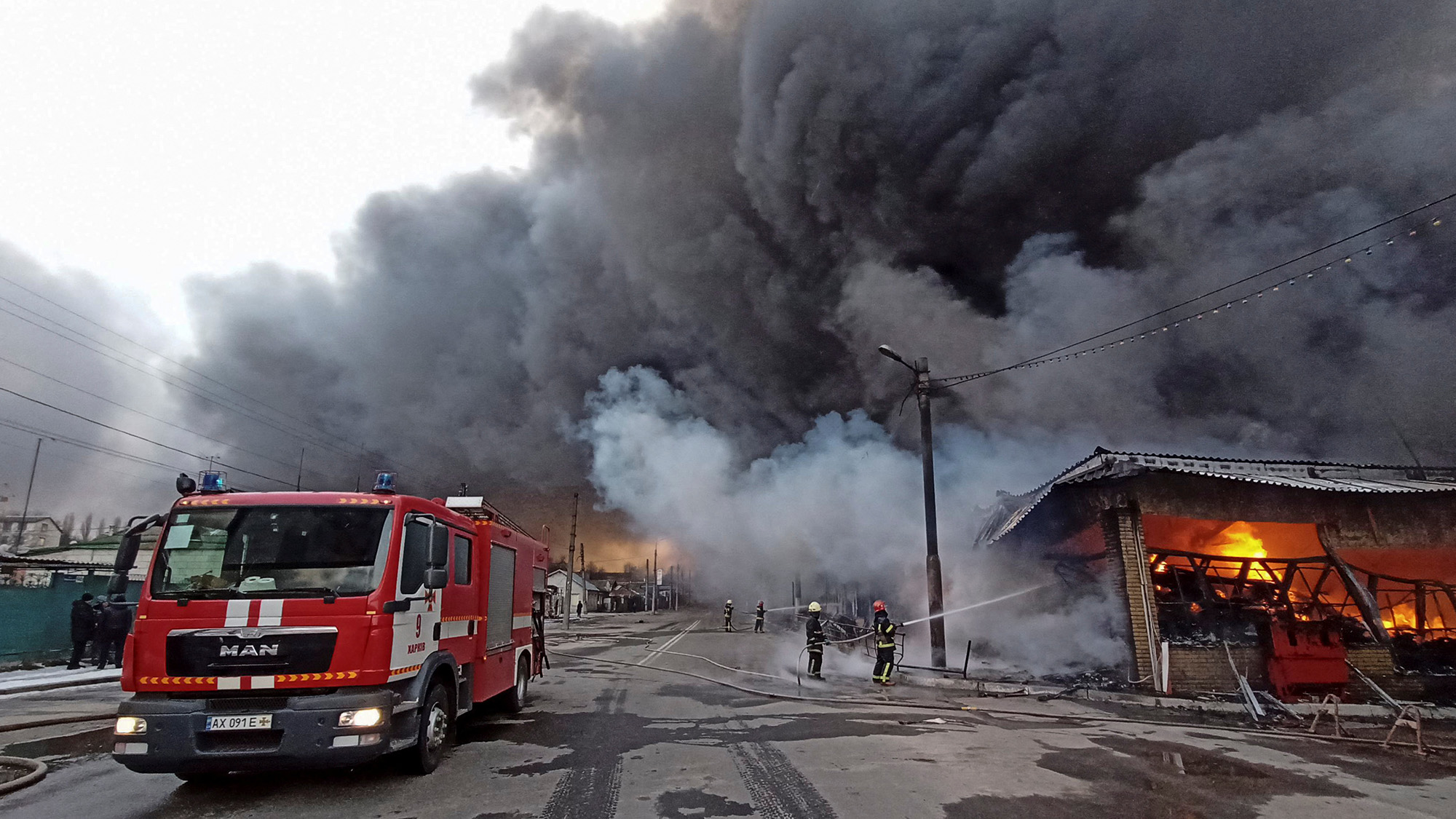 Russian shelling has hit Kharkiv's giant Barabashova market, setting off a series of fires, according to officials in the eastern Ukrainian city.
Videos show huge plumes of black smoke emanating from several parts of the market, suggesting the complex suffered multiple strikes.
Emergency services say 70 people are involved in efforts to extinguish the fires, which spread to several nearby houses.
One emergency responder tackling the blazes was killed, the city mayor announced. 
The market — billed as one of the largest in the world — covers an area of 300,000 square meters, according to a tweet by Ukraine's foreign ministry.
2 hr 9 min ago
Analysis: Putin's incendiary Stalinesque speech Wednesday night is a sign things aren't going to plan
Analysis from CNN's Angela Dewan
Western leaders and security agencies are spending huge amounts of resources on getting into Russian President Vladimir Putin's head. It's a futile exercise — at times when the West has thought Russia's war in Ukraine might be losing steam, Putin has doubled down, sending his forces to bomb maternity hospitals and shelters harboring children.
Now, an apparent pause in the advancement of Russian troops has the West guessing: Has Russia's war effort stalled? Or is it a tactical regrouping?
Either way, an incendiary Stalinesque speech on Wednesday night in which Putin called Russians opposing the war "traitors" marked a change in tone and a sign that not all is going to plan, experts said. Perhaps more worrying, many observers saw it as a sign that the head of the Russian state, facing setback in Ukraine, would take a vengeful turn at home and crack down more forcefully than ever on any sign of dissent.
While some Russians support the war, many others are protesting against it in the streets, fully aware they will be rounded up by heavily armed police even for the most peaceful of demonstrations. The Russian state has made mass protests illegal, and now, insulting the military is against the law. Still, people show up in groups, while others demonstrate entirely alone. Even lone protesters have been detained, social media videos have shown.
A journalist who jumped on camera on a state-controlled news program, holding an anti-war sign, has become a cause celebré for free speech in Russia. A renowned ballerina has left the Bolshoi. Russian prisoners of war are calling Putin out for using propaganda to justify the war.
Putin, who has enjoyed consistently high ratings in Russia, is now turning to a strategy of intimidation to keep Russians on side, experts said. His speech Wednesday hinted darkly that those Russians who do not side with him were, in essence, traitors — chilling words in a country where mass political repressions and the Gulag system are still within living memory.
Read the full analysis here.
2 hr 16 min ago
Ukrainian officials slam Israel for refugee policy
From CNN's Hadas Gold in Jerusalem
Ukrainian officials are blasting Israel's policy on Ukrainian refugees, saying they are "denying shelter" to people in danger because of refugee quotas.
"Russia is committing genocide of Ukrainians, killing thousands of civilians, while the Israeli Government inspects each and every refugee from Ukraine with a fine-toothed comb," the Ukrainian Embassy in Israel posted in a statement on Facebook. "We urge those who takes decision to cancel policy of quotas and other artificial obstacles towards women and children fleeing war-torn Ukraine. 
Israeli officials have defended their policy. Israeli Population and Immigration Authority Director Tomer Moskowitz told Yedioth Ahronoth newspaper "[T]he world is full of trouble. Terrible things happen all the time, and I'm not being cynical. But does that mean that we have to take in people indiscriminately? I am the guard at the country's gate and I can't open it to everyone."
Under Israel's "Law of Return," any Jew, or anyone with at least one Jewish grandparent, is eligible for Israeli citizenship along with their families. There is no limit to the number of Ukrainians who can enter under the "Law of Return," and Israeli officials say they are preparing for a wave of up to 100,000 Ukrainian and Russian citizens eligible to enter the country.
Israeli citizens are also eligible to apply for entry permits for their non-Jewish Ukrainian family members with no quota. 
Aside from those two groups, Israel has instituted a 5,000 person quota of Ukrainians without family connection but must apply for permission first.  
Refugee family members of Israeli citizens and those with no connections will initially be issued three-month tourist visas, which may be changed to work permits if the war lasts longer. 
The Ukrainian Ambassador to Israel Yevgen Korniychuk told CNN that on Wednesday night 12 Ukrainian citizens were turned away at Tel Aviv's Ben Gurion Airport and sent back to Poland for not having entry permits.
Ukrainian President Volodymyr Zelensky's chief of staff Andriy Yermak wrote in a Facebook post that "The recent decisions of the Israeli leadership aimed at restricting the admission of Ukrainians, to put it mildly, are surprising. We consider the suspension of visa-free travel and the introduction of the system of electronic permits of the [Interior Ministry] to enter Israel to be an unfriendly step for the citizens of Ukraine, which needs to be corrected immediately."
The Ukrainian Embassy in Israel wrote on Facebook that they've asked Israeli authorities to allow Ukrainians with Israeli relatives to invite them in without prior approval, and an alternate mechanism that will allow Ukrainians with friends in Israel who can host them to enter as well.
"We hope that the government, whose nation experienced the refugee life throughout its existence, will embrace those, who are saving their own lives and lives of their children – looking for a temporary shelter from horrors of war," the embassy wrote. 
2 hr 20 min ago
Oil spikes back above $100 as concerns grow over potential length of war affecting energy supplies
From CNN's Matt Egan
Oil prices surged on Thursday back above $100 a barrel on renewed concerns about the war in Ukraine disrupting Russia's energy supplies.
After sinking below $94 a barrel earlier this week, US crude soared 8% to $102.65 a barrel in recent trading. Brent crude spiked 9% to $107 a barrel. 
The swift rebound in oil prices will be watched closely by leaders in Washington and Wall Street because high energy prices threaten to exacerbate inflation and slow down the economy.
Energy traders blamed Thursday's spike on growing pessimism about a resolution between Russia and Ukraine being reached in the near term.
"The mood has darkened a little bit," said Robert Yawger, vice president of energy futures at Mizuho Securities. "It sounds like this is going to be a dragged-out situation."
The recent drop in oil prices was driven in part by hopes for a potential ceasefire. The longer the war goes on, the bigger the threat to Russia's oil flows.
"Given Putin's actions in recent times, we shouldn't get our hopes up," said Matt Smith, lead oil analyst of the Americas at Kpler.
The International Energy Agency warned Wednesday that a staggering 30% of Russia's oil production could be knocked offline within weeks, exposing the world economy to a potential supply crisis.
"The implications of a potential loss of Russian oil exports to global markets cannot be understated," the IEA said in its monthly report. 
Despite Thursday's rebound, oil prices remain well below their recent peaks. US crude spiked to a nearly 14-year high of $130.50 a barrel on March 6, while Brent hit nearly $140 a barrel. 
Gasoline prices are only inching lower, drawing criticism of the energy industry from the White House. The national average for regular gas dipped to $4.29 a gallon on Thursday, according to AAA. That's down by two pennies from Wednesday and four pennies from the record high of $4.33.