Here's another special purpose acquisition company (SPAC) to add to your watch list for 2022. Through a business combination with shell company Sports Entertainment Acquisition Corporation, Super Group (NYSE:SGHC) started trading on the New York Stock Exchange (NYSE) under the SGHC stock ticker.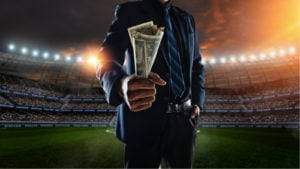 Source: sutadimages / Shutterstock
As it turned out, Super Group didn't provide super returns to investors. The stock tumbled, and undoubtedly some shareholders started to feel a sense of buyer's remorse.
It's possible that investors have SPAC fatigue and decided to unfairly punish SGHC stock. If that's the case, then Super Group might represent a prime opportunity for enterprising traders.
As we delve into the details of Super Group, we'll discover that investors are really getting exposure to two businesses for the price of one. Moreover, these are businesses in potentially lucrative markets. So, there's really no need to pigeonhole Sports Entertainment Acquisition Corporation/Super Group as "just another SPAC."
A Closer Look at SGHC Stock
Sports Entertainment Acquisition Corporation, the blank-check company, formerly traded under the ticker symbol SEAH. For a while, that stock traded for approximately $10, which is a typical share price for a pre-merger-announcement SPAC stock.
The aforementioned business combination closed on Jan. 27, and SGHC stock commenced trading on the NYSE the next day. Yet, oddly enough, the stock had already declined sharply prior to those events.
When it was still SEAH, the stock fell from around $10 on Jan. 20 to $8 on Jan. 24. It closed yesterday at $8.40 but slipped in after hours trading to $8.21 a share.
In other words, fast-acting traders might be able to scoop up a bargain with SGHC stock. Just keep an eye on the $10 level, which may be a resistance point until proven otherwise.
Two Businesses to Bet On
Sometimes, a music group that includes great musicians who already had illustrious careers, is called a "super-group."
Therefore, the holding company Super Group is aptly named. It has two subsidiary businesses: online sports betting brand Betway, and multi-brand online casino offering Spin.
Betway can be described as an online sportsbook with a global footprint. The company holds gaming-related licenses in Europe, the Americas and Africa. Plus, Betway has more than 60 brand partnerships with teams and leagues around the world.
With less of a sports focus than Betway, Spin can be characterized as a provider of online gaming environments.
As Super Group describes it, Spin "leverages its proprietary data and analytics engine across its platform to provide fully customized and constantly improving customer journeys."
In total, Super Group's leadership team oversees a workforce comprising more than 3,500 employees in 17 countries. Clearly, this is an ambitious holding company with an expansive i-gaming market presence.
Expanding Global Footprint
With its two brands, Super Group is preparing to make its presence felt in multiple regions. Impressively, Super Group's brands had 2.5 million active customers in March 2021.
Moreover, Betway has market access in at least 12 U.S. states so far. These include the gaming-friendly states of Pennsylvania and New Jersey.
As a result of Super Group's expanding presence in the U.S. and abroad, the company's businesses are able to provide some compelling data points for skeptical investors:
Over 2.7 million average monthly active customers in
2021's second half, representing year-over-year growth of roughly 45%
Year-on-year growth in net gaming revenue (also known as NGR) of around 36%
Earnings before interest, taxes, depreciation and amortization (EBITDA) during 2021's first half grew by around 87% compared to 2020's first half
The Betway and Spin brands launched in nine new regulated
markets in 2021, versus only two in 2020.
The Bottom Line
There's no need to be deterred by SPAC fatigue in 2022. Granted, some SPAC stocks have popped and dropped, including SEAH/SGHC stock.
Yet, Super Group has the data points to prove that it's a fast-growing company. With Betway and Spin, Super Group offers two great businesses in the i-gaming space.
Therefore, you don't have to lump SGHC stock in with every other SPAC stock. Super Group is unique, and the company's revenue-generating potential looks strong for the long term.
On the date of publication, David Moadel did not have (either directly or indirectly) any positions in the securities mentioned in this article. The opinions expressed in this article are those of the writer, subject to the InvestorPlace.com Publishing Guidelines.