1 min ago
Putin calls deterrence of Russia by the West a "threat," but adds Russia is ready for "negotiation track"
From CNN's Nathan Hodge and Anna Chernova in Moscow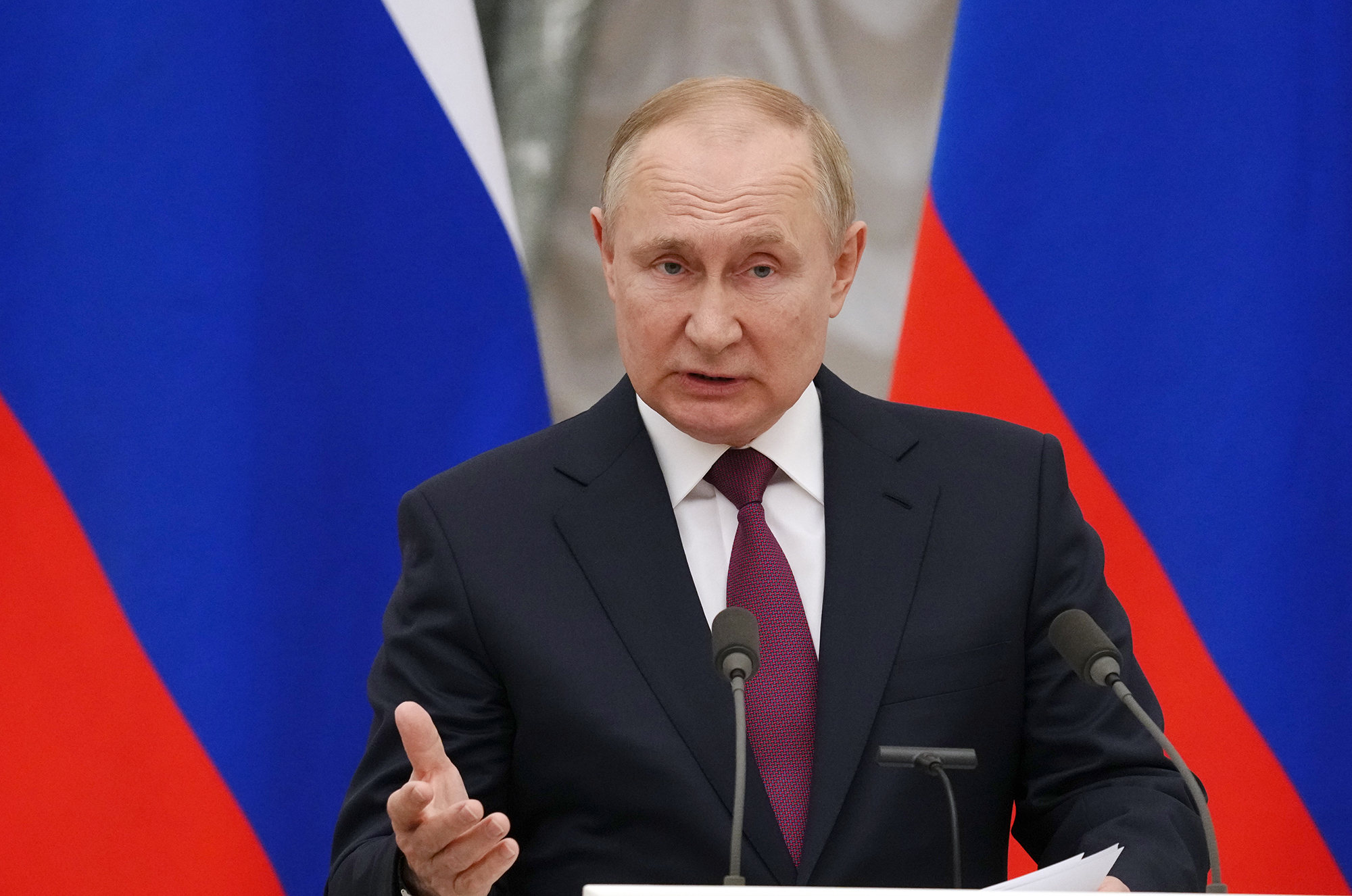 Russian President Vladimir Putin called Western deterrence of Russia a "direct and immediate threat," saying once again the United States and North Atlantic Treaty Organization had not satisfied Russia's security concerns.
Speaking at a press conference with German Chancellor Olaf Scholz, Putin said: "We view the deterrence of Russia by force as a direct and immediate threat to national security, which the legal agreements of the draft projects submitted by us are designed to remove."
Putin was referring to security demands by Russia, to which the US and NATO have responded in written form. 
"The responses we received from the United States and NATO members to security guarantees proposals, in our opinion, do not meet the three basic Russian requirements mentioned above," Putin said. "However, as the minister of foreign affairs of the Russian Federation told me yesterday, the provided responses contain a number of proposals that we are not just open to discussing, but in fact we have proposed them to our partners in previous years: proposals on European security issues, on certain weaponry issues, i.e. intermediate and short-range missiles, and on military transparency."
Putin added: "We are ready to continue this joint work further. We are also ready to follow the negotiation track but all issues must be considered as a whole, without being separated from the main Russian proposals, the implementation of which is an unconditional priority for us."
1 min ago
US stock market jumps after Russia says it's withdrawing some troops
From CNN's Matt Egan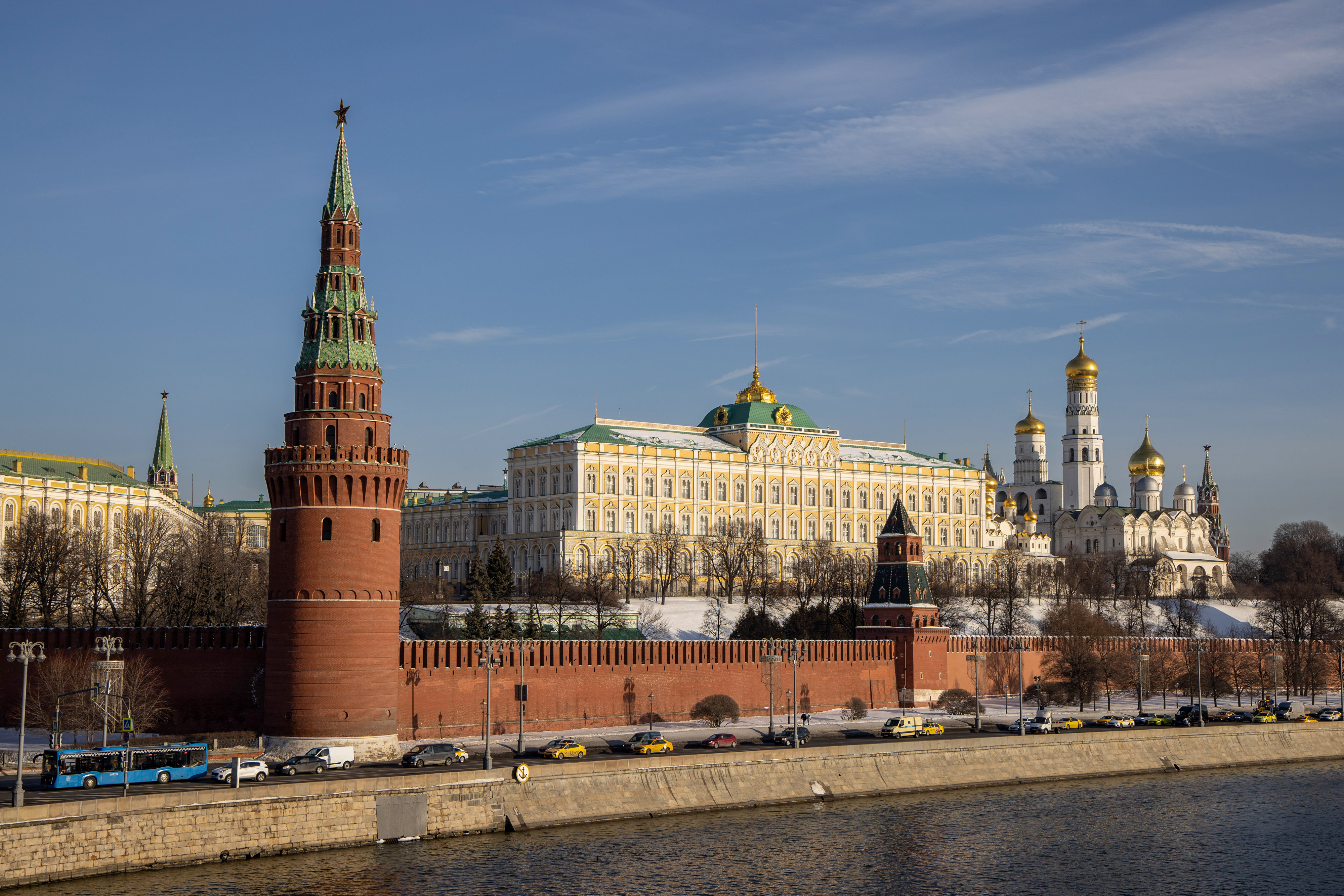 Wall Street's Russia-Ukraine fears eased Tuesday morning after Russia announced it is withdrawing some troops following the completion of recent drills near Ukraine. 
The Dow jumped about 280 points, or 0.8%. The S&P 500 surged 1% and the Nasdaq was 1.5% higher.
Investors have been concerned that an armed Russian conflict with Ukraine could badly damage the global economy. A war could send prices surging in regions that have already been struggling with rapidly rising inflation, especially as energy supplies could be disrupted in the middle of a conflict. Russia is a major exporter of oil and particularly natural gas.
US oil futures tumbled about 3.5%. That's despite the fact that Russia stressed Tuesday that major military exercises would continue. 
The market reaction to signs of potential de-escalation is the latest example of investors hanging on nearly every headline emerging from the crisis.
The Dow and S&P 500 have declined three days in a row, including a drop on Monday that came after the State Department announced the closure of the US embassy in Kyiv.
US oil prices jumped above $95 a barrel Monday for the first time since 2014 on concerns about the Russia-Ukraine conflict. However, crude reversed course Tuesday morning, falling to $92 a barrel. 
33 min ago
German chancellor says "it is our damned duty to prevent a war in Europe" after meeting with Putin
From CNN's Stephanie Halasz
German Chancellor Olaf Scholz voiced concern over what he called "the sign of the threatening crisis in Europe," during a news conference at the Kremlin with Russian President Vladimir Putin. 
Scholz said the two comprehensibly discussed the Russian military gathering at the Ukrainian border.
"I cannot stress more how concerned we are," Scholz said.
It is "urgent we have de-escalation so that we won't have a war in Europe," Scholz said, adding that "diplomatic options are still there."
Scholz said Putin and he agreed the Normandy format was important to solve the Ukrainian conflict. "I would not say this is lost," he said.
"It is our damned duty to prevent a war in Europe," Scholz said.
"For us Germans, but also for all Europeans, it is important that sustainable security cannot be achieved against Russia, but only with Russia," the German chancellor said.                                                                                                                                    
"I believe that we are in the situation to use all possibilities to make a peaceful solution possible. What is important for me is that the talks take place in this trilateral contact group, therefore in Minsk," Scholz said during the news conference.
38 min ago
 Latest intelligence on Russian military buildup is "not encouraging," says British prime minister
From CNN's Amy Cassidy
UK Prime Minister Boris Johnson said he is not bolstered by the latest intelligence on Russia's military buildup around Ukraine and is receiving "mixed signals," he told reporters on Tuesday.  
"We are seeing Russian openness to conversations. On the other hand, the intelligence that we're seeing today is still not encouraging," he said.
"We've got Russian field hospitals being constructed near the border with Ukraine, in Belarus for [what] only can be construed as a preparation for an invasion. You've got more battalion tactical groups actually being brought closer to the border with Ukraine, according to the intelligence that we're seeing," he added.
"So mixed signals, I think at the moment, and all the more reason therefore for us to remain very tough and very united in particular on the economic sanctions," he said, adding that an invasion could still happen "virtually at any time."
Russia announced Tuesday that some troops would be returning to bases after completing military drills.
To reassure the UK and other Western leaders, Johnson said they would have to see a "program of de-escalation" from Russia. 
"That means withdrawing the battalion tactical groups away from a potential theater of conflict, not constructing field hospitals on the border with Belarus and between Belarus and Ukraine; a sense that things are being scaled back, scaled down, that the threat is over and the conversation and negotiation is beginning," he said.
"We think there is an avenue for diplomacy," Johnson added.
53 min ago
Biden official warns Russia against weaponizing energy
From CNN's Matt Egan
The Biden administration warned Russian President Vladimir Putin on Tuesday against weaponizing its energy exports during the standoff with Ukraine.
"If Putin decides to weaponize his energy supplies, it would be a major mistake," Daleep Singh, US deputy national security adviser, said on CNBC. 
The official noted that Russia is "incredibly dependent" on the West as a consumer for its energy supplies, with oil and natural gas accounting for half of the country's budget revenue and two-thirds of its export revenue.
"This is a long-term vulnerability for President Putin. If he weaponizes energy supply, that's only going to accelerate Europe's and the West's diversification away from Russian energy," Singh said, adding that it would be a "major blunder."
Singh added that US officials are "prepared for whatever might unfold."
Some more context: Oil prices have climbed sharply in recent days in part due to concerns how Russia's energy exports could be impacted by a full-scale conflict. JPMorgan recently warned oil could soar to $120 a barrel if there is any disruption to Russia's oil flows.
Natural gas prices spiked in Europe last fall as Russia's exports tumbled. Putin denied allegations in October that Russia was deliberately driving up gas prices, saying: "Russia is not using any weapons."
US stock futures soared and oil prices tumbled on Tuesday after Russia said it was withdrawing some troops while continuing major military exercises.
Singh said "actions speak louder than words" when asked about the Russian troop withdrawal announcement.
Singh reiterated that Western powers will punish Russia if there is an invasion. 
"If there's a troop or a tank that crosses the border, we are ready to impose the most severe sanctions ever imposed on Russia in lockstep with our allies and partners," he said. 
1 hr 14 min ago
US must first verify claims of a potential move toward de-escalation by Russia, US ambassador to NATO says
From CNN's James Frater in Brussels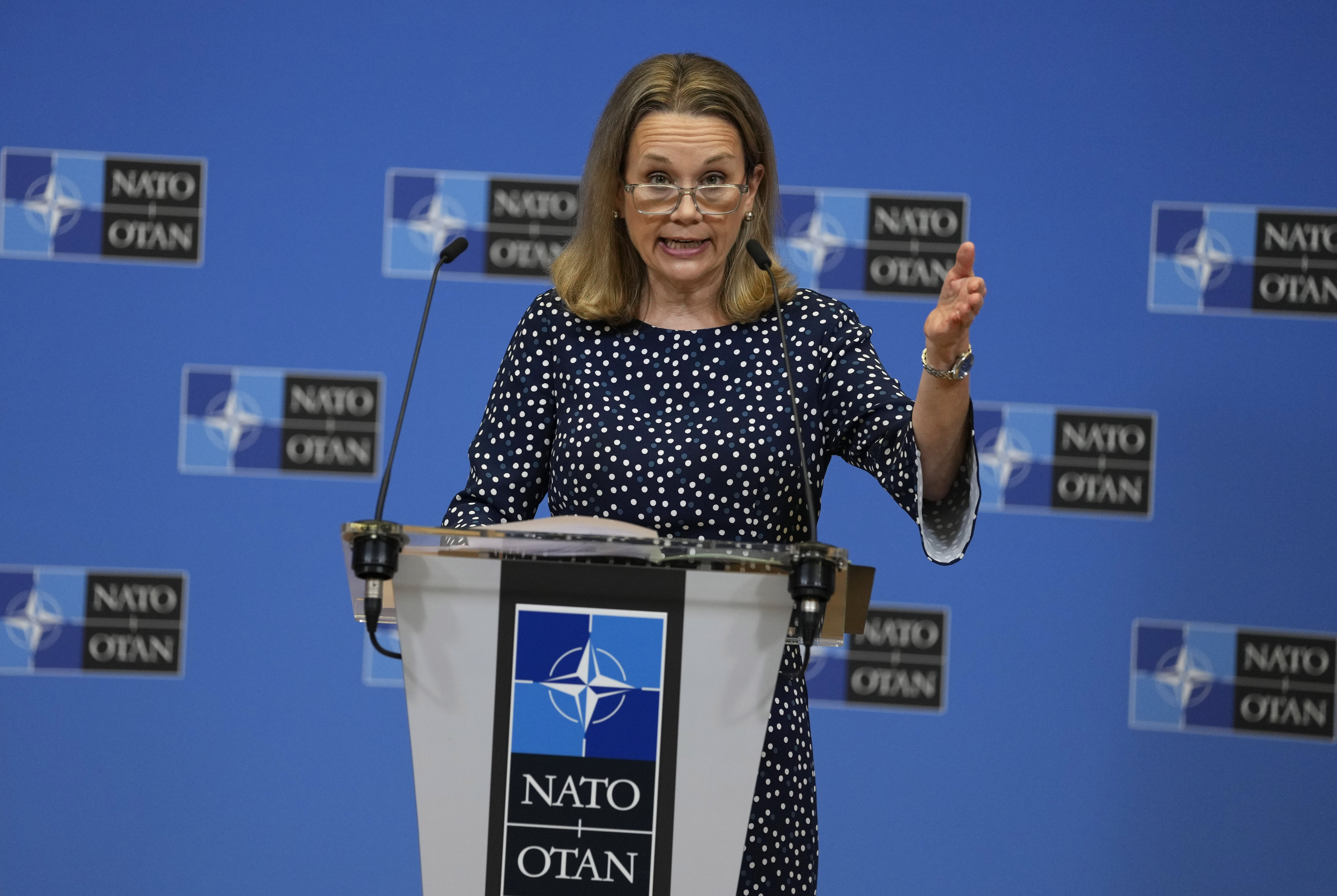 The US ambassador to the North Atlantic Treaty Organization, Julianne Smith, said the US is "monitoring the situation" after the Kremlin announced the return of some Russian troops to their bases following the completion of military exercises, adding that the US "will have to verify" claims of a potential move towards de-escalation by Russia. 
"We have noticed today that Russia is claiming that they are moving towards some sort of de-escalation. We are monitoring the situation," Smith said Tuesday.
"We will have to verify whether or not that is in fact the case," she added. 
Speaking during a press briefing in Brussels, Smith further noted that Russia "made a similar claim" regarding a potential de-escalation of tensions in December, but this later proved false. 
"When we went in to verify, we actually found no signs of that. And since then, we've only seen Russian forces moving in the opposite direction," Smith continued. 
Earlier on Tuesday, Kremlin spokesperson Dmitry Peskov acknowledged the return of some Russian troops to their bases, noting during a press briefing that this is a "normal process" after the completion of military exercises.
"Russia has conducted and will continue to conduct military exercises throughout the territory of the Russian Federation — this is an ongoing process, as in all countries of the world," he added.
1 hr 38 min ago
US accuses Moscow spies of working with Russian-language media outlets to spread Ukraine disinformation
From CNN's Sean Lyngaas and Zachary Cohen
The US believes Russian intelligence agencies have worked closely with the editorial staff of five Russian-language media outlets to boost public support for a renewed Russian invasion of Ukraine, US officials familiar with the intelligence assessment told CNN in a media briefing.
Officers with Russia's domestic and foreign intelligence agencies, the FSB and SVR, have covertly planted articles in publications that blame the West for tensions with Russia over Ukraine, question the legitimacy of the Ukrainian government and challenge the US commitment to its European allies, US officials alleged.
A pillar of the alleged propaganda scheme is the Strategic Culture Foundation, a Russian journal that the US Treasury Department sanctioned last April for spreading disinformation in the 2020 US election, officials said.
The US officials did not present the underlying intelligence the allegations were based on, and they declined to describe how the information was obtained. Some of the information is corroborated by open-source reporting.
The disclosure is part of a furious effort by the Biden administration to declassify intelligence in the hope of preempting Russian military action in Ukraine, which Secretary of State Antony Blinken and other US officials have said could happen at any time. Russia has massed an estimated 130,000 troops on Ukraine's border, according to two sources familiar with recent assessments.
The disinformation campaign "is a primary vector for how the Russian government will bolster support domestically for an invasion into Ukraine, as well as spread any disinformation on a false flag operation," a US official authorized to speak on background with the media told CNN.
Neither the Strategic Culture Foundation nor the Russian Embassy in Washington responded to a request for comment. Russia has previously denied US allegations that the Kremlin was spreading misinformation.
Read the full story here.
1 hr 52 min ago
White House conducted tabletop exercises to prepare for potential Russian invasion of Ukraine
From CNN's Kaitlan Collins
After the National Security Council recognized last November that Russia could potentially invade Ukraine, a broad range of government officials formed a so-called "Tiger Team" to create a playbook to game out how the US would respond to such an attack.
The effort — led by Alex Bick, the NSC's director for strategic planning — has been months in the making and involved several aspects what a response could require, "from humanitarian assistance, to force posture moves, to embassy security, to diplomatic efforts, to sanctions and other forms of pressure, to cyber," an administration official told CNN. 
The team — which included officials from the State Department, Pentagon, Joint Staff, USAID, Energy Department, Homeland Security, Treasury and the intel community — conducted two lengthy tabletop exercises to practice, including one that involved Cabinet members. 
"The reality is that what the Russians may end up doing is not likely to be a 100 percent match for any of these scenarios," principal deputy national security adviser Jon Finer said in a statement. "But the goal is for them to be a close enough facsimile of what they end up doing that the plans are useful in terms of reducing the amount of time we need in order to respond effectively. That's really the whole goal."
The Washington Post was first to report the details of the preparation. 
1 hr 47 min ago
UK foreign secretary said she's concerned a Russian attack "would not stop at Ukraine"
From CNN's Niamh Kennedy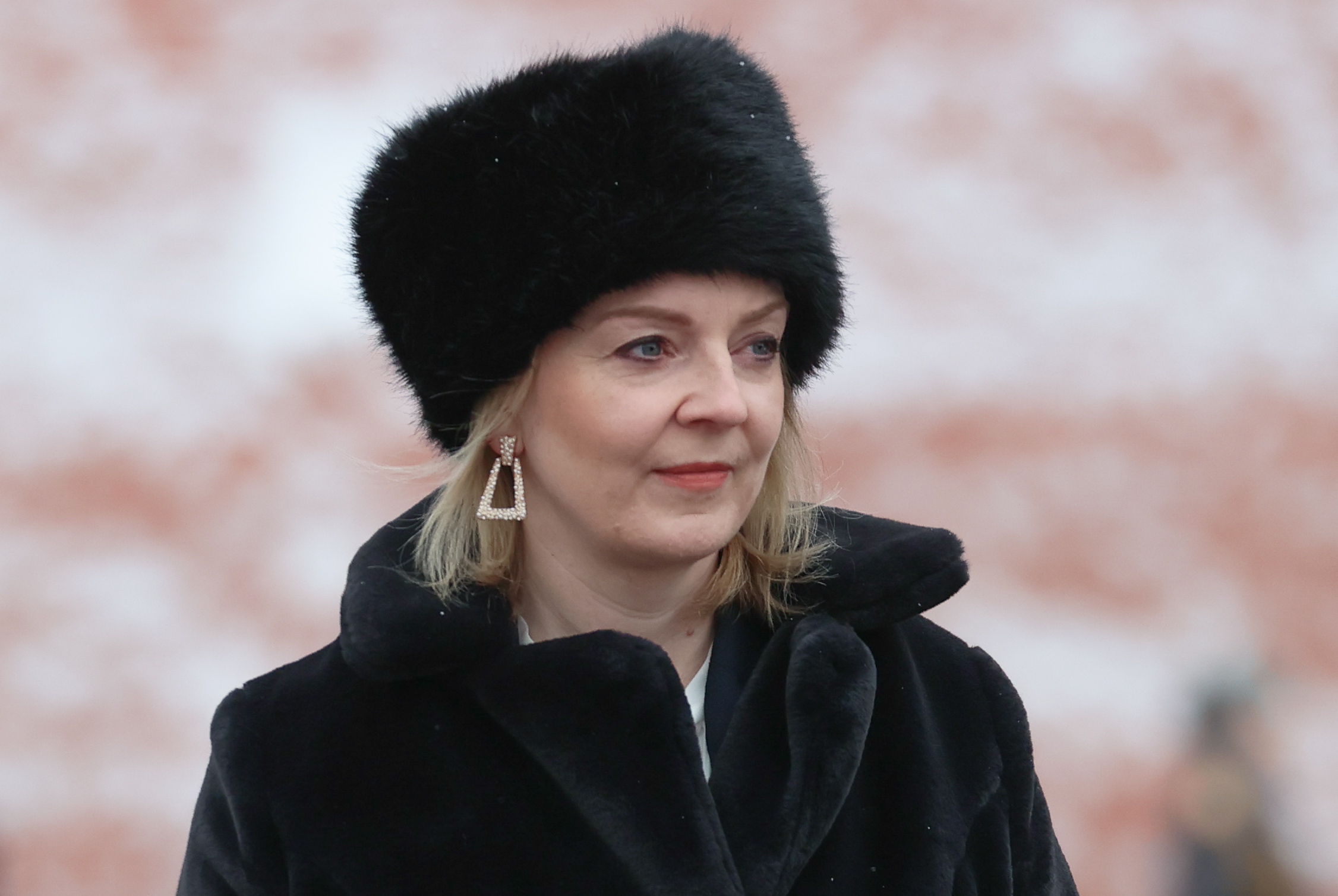 UK Foreign Secretary Liz Truss said she fears a Russian attack "would not stop at Ukraine."  
"This is an attack on the neighboring states of Russia and other Eastern European countries, in trying to undermine the legitimacy of them being part of NATO," Truss told Sky News on Monday. 
She said an invasion into Ukraine could bring about the "undermining of security more broadly in Europe." 
"We could also see other aggressors around the world see it as an opportunity to expand their ambitions, so this is a very dangerous moment for the world," Truss said. 
The foreign secretary sounded a warning that a Russian invasion still "could be imminent" after comments from Ukraine's President Volodymyr Zelensky created further uncertainty about the prospect of an attack this coming Wednesday. 
Truss laid out a range of possibilities, saying there could be an attack on Kyiv, an attack from the East or potentially a "false-flag" operation – the fabrication of a Ukrainian attack on Russia, which US officials have previously alleged Russia is doing by creating "a very graphic propaganda video."  
Russian troops could move down to Kyiv from border areas "very, very quickly," Truss added. Last week, the UK government advised British citizens in Ukraine to leave the country now.