Anyone who has ever attempted to sleep on an airplane knows that it's not always easy. While there are some strategies for sleeping better on a plane, ultimately, there are so many factors at play that it's never a consistent experience. Between snoring seatmates, freezing — or baking — temperatures and bright cabin lights, I'm always faced with a barrage of reasons to stay awake. Perhaps the most challenging scenario of all is when I'm stuck in an aisle or middle seat that provides nowhere to lean as I (unsuccessfully) attempt to lull myself to sleep.
While I've tried several airport kiosk-purchased travel neck pillows over the years, none worked at actually propping my head up as I tried to nap. Instead, I was repositioning myself constantly, with the pillow providing little to no buffer between my head and the seat. And, in the event that I did fall asleep, it was short-lived, as I was slumped over within a few minutes.
So, when planning a recent trip to Mexico, I decided to give the Ostrichpillow Go Neck Pillow a whirl. Fancier and sleeker than the others I've tried, the Go Neck comes from the maker of the cocoon-like, Ostrichpillow Original Napping Pillow that received a ton of buzz back when it launched in 2012 for its quirky — and downright odd — shell. With quite a few options in its portfolio — including a great eye mask and the Light Versatile Pillow — the Ostrichpillow brand knows a thing or two about sleep aids.
Going into my flight, the Go Neck Pillow had me intrigued. While it's not as jarring as the Original Napping Pillow from Ostrichpillow, the Go Neck Pillow is more subtle. It looks like a firm but fluffy neck brace in a wave-like shape. When travel day arrived, I boarded my 6 a.m. flight from New York—Kennedy (JFK) not expecting to snooze, and much to my dismay, that's exactly what happened.
A great travel companion for sleeping better in flight
The Ostrichpillow Go Neck Pillow is a solid option for head and neck support while traveling. Different from traditional U-shaped travel neck pillows, it offers a soft exterior and firm memory foam support. We loved its travel-friendly size and full 360-degree neck support for in-flight naps.
Here's the thing about travel pillows: Some are soft, but not supportive, while others are supportive, but not soft. The Go Neck Pillow defies this standard by being both. It's swathed in a silky-soft, jersey-like fabric made of a viscose and elastomer blend, which is also removable and machine washable. Inside, the pillow is crafted from a high-density memory foam meant to cradle the neck and head and keep it from bouncing around.
Unlike a traditional U-shaped travel pillow that has a gap in support at the front of the neck, the Go Neck pillow offers full 360-degree support. The ergonomic design sees one side of the pillow higher and one lower, which is great for leaning into the pillow like you would when side-sleeping at home. The pillow is fastened with a long velcro band that allows the fit to be semi-customizable, working with necks of varying widths and lengths.
While the most-discussed highlights of the Go Neck Pillow typically include the fact that it offers supreme support, it's also notably a great option for frequent travelers. When you're done using the pillow on your flight, the memory foam compresses to 60% of its size, allowing you to easily store it in its included travel bag for easy transport.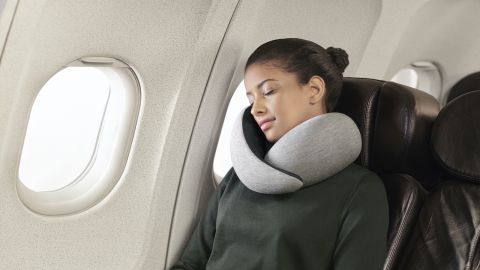 Ostrichpillow
How did I fare testing this pillow on my flight to Mexico? Admittedly, there's a bit of a learning curve when first strapping the pillow around your neck. It can feel clunky and awkward until you find the perfect placement and tightness. But after a lot of laughs and more than a few selfies with my travel companions who all had their own Go Neck Pillows, we each figured out our perfect placement — and, much to our surprise, off to dreamland we went.
Despite our differing heights, neck width and length and sleep preferences, all six of us fell sound asleep with the Go Neck Pillow. We agreed that the ultra-soft fabric and the memory foam's support propping our heads up in every direction were the chief reasons why we fell — and stayed — asleep.
I particularly loved how the front of the Go Neck Pillow created the perfect resting place for my chin, thus resisting my attempts to slump forward mid-nap. With other travel neck pillows I've tried, this lack of front support had been a longstanding issue. And, get this: I slept a whopping four hours during this flight, which is more than I've ever slept on a flight before. I arrived in Mexico feeling fresh and ready for my vacation.
Courtney Thompson
Beyond its efficacy as a sleep aid, the Go Neck Pillow is also easy to travel with. You can opt to wrap the pillow around your retractable luggage handle or place it in the handy drawstring bag it comes with. Fear not, it won't take up too much space in your carry-on bag or travel backpack because it easily compresses to 60% of its size when rolled up — a simple and efficient process.
I also love that in addition to a two-year warranty, which is valid on any item purchased directly through Ostrichpillow, the company also has a generous 100-day return policy. Considering that this pillow isn't on the cheap side for a travel tool — it costs about $60 — both of these policies in tandem bring peace of mind for anyone on the fence about giving this pillow a try. If you're not completely satisfied with its comfort, send it back.
After having tested the Go Neck Pillow myself, I'm a firm believer that it's well worth the $60 investment. I'm one of those rare travelers who doesn't get pre-flight anxiety about flying. But instead, I get anxious about desperately wanting — but never achieving — to sleep on the airplane. Thanks to the Go Neck Pillow, however, that anxiety is squashed. I'm now looking forward to my next trip when I can sink into my middle coach seat, strap on my Go Neck Pillow, close my eyes and fall fast asleep. Trust me, you'll feel the same.
Looking for a travel credit card? Find out which cards CNN Underscored chose as our best travel credit cards of 2022.