Latest – The International Cricket Council plans to work in the future on the men's and women's calendars to avoid fixture clashes that can undermine events like the women's World Cup.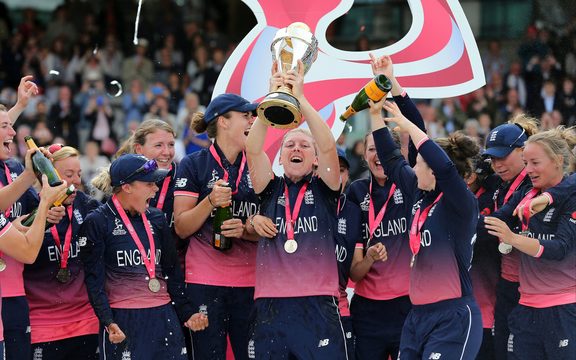 England Captain Heather Knight and her team celebrate with the 2017 Women's ICC World cup Trophy Photo: PHOTOSPORT
The tournament, which begins in New Zealand on March 4, clashes with three major men's series — Pakistan v Australia, India v Sri Lanka and England v West Indies.
"Complementary fixtures between men's and women's events is something, in an ideal world, that we would love to have greater control over in terms of making sure there's quality cricket on most days of the year," said chief executive Geoff Allardice.
"But in practice, issues on the ground in each country make that a challenge. Even Pakistan-Australia fixtures have moved by a day or two, as different arrangements come into force, so I don't think it'll impact interest in the women's World Cup.
"But the way the men's calendar and the women's calendar interact is something we're trying to work around a lot more closely in the future."
Allardice, who hailed the 2017 World Cup in England as a watershed moment for the women's game for its attendance and overall audience figures, said he was not worried about a potential dip in the latest edition.
Stadiums will be limited to 10% capacity for the opening stages of the tournament, while matches will be broadcast early in the morning in the Asian region, where the sport is popular.
-Reuters
Tall Blacks beat India again
The Tall Blacks remain unbeaten at the top of their group in the Asian World Cup men's basketball qualifying tournament in Manila.
The New Zealanders have beaten India for the second time 95-60.
The Tall Blacks turned in an impressive second quarter, outscoring India 28-7.
Tom Vodanovic top scored with 20 points, while Rob Loe had 18, while they each pulled down 10 rebounds.
The Tall Blacks dominated the glass, out rebounding India 48-29.
The Tall Blacks now leave Manila with their last first round qualifying game against the Philippines not scheduled until July.
Phoenix women to play 2 games in 4 days
The Wellington Phoenix women will play two matches in four days this week to close out their maiden A-League season.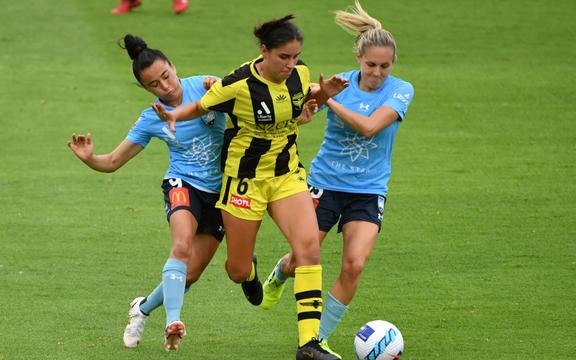 Photo: PHOTOSPORT
The Phoenix's penultimate round match against Western Sydney Wanderers has been rescheduled for tonight, after persistent rain in Sydney made Western Sydney Stadium unplayable on Sunday afternoon.
The ground has since recovered.
The Phoenix will then return to their home away from home, WIN Stadium in Wollongong, to round out their inaugural season against Perth Glory on Friday evening.
Unlike the Phoenix women, the men's postponed match against Western Sydney will not be rescheduled for this week and will instead be played later in the season, in April or potentially May.
They will return to action on Sunday afternoon against reigning A-League champions Melbourne City at Leichhardt Oval in Sydney.
Buffon carries on
Former Italy goalkeeper Gianluigi Buffon has extended his contract with Parma until 2024, meaning he will be 46 when it expires.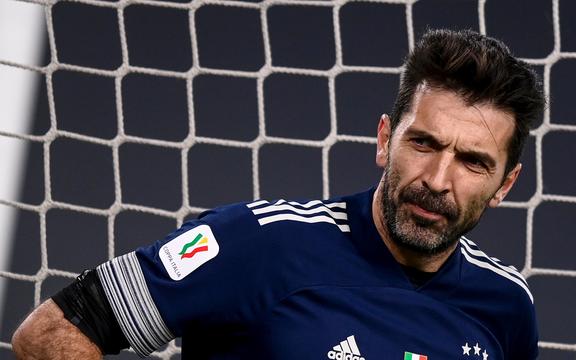 Photo: PHOTOSPORT
The World Cup winner, 44, rejoined the Serie B club on a two-year deal last year.
Buffon won 10 Serie A titles with Juventus and has played a record 657 games in the Italian top flight.
"For me and my family, this is a wonderful day. I hope that the city and all fans will be happy," said Buffon.
Buffon – who made his Serie A debut for Parma in November 1995 – has played 23 league games this season for the club, who are 13th in the 20-team Serie B after 26 matches.
"My return to Parma was linked to the relationships and the deep bond I have always had with this city," added Buffon.
-BBC
Brain study shows degenerative disease
More than half of the first 21 brains donated to the Australian Sports Brain Bank by former athletes showed signs of chronic traumatic encephalopathy, a degenerative disease caused by repeated concussions, a study showed.
CTE, which can only be detected when the brain is examined after death, has been linked to mental health issues ranging from mood and behavioural symptoms to cognitive impairment and dementia.
The study, which was approved by the Sydney Local Health District Ethics Review Committee, reported its preliminary findings based on the first 21 completed donations up to March 26, 2021.
The paper added that six of the 12 donors with CTE, and one of nine without CTE, had died by suicide.
Contact sports around the world are starting to deal with the long-term consequences of players receiving repeated head-knocks during their careers.
The National Football League in the United States set up a $1 billion fund in 2016 to compensate thousands of former players who suffered brain injuries linked to repeated concussions.
A group of former rugby players filed a class-action lawsuit against World Rugby and other governing bodies in December 2020, alleging that their failure to protect them had led to early onset of dementia.
The rugby governing body announced guidelines last year limiting full contact training to 15 minutes per week and launched a brain health education campaign for players.
-Reuters
Johnson named Ryder Cup captain
The United States named Zach Johnson as their 2023 Ryder Cup captain, with the two-time major winner succeeding Steve Stricker in the role.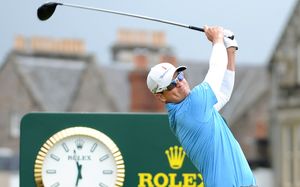 2015 Open Championship winner Zach Johnson Photo: PHOTOSPORT
The U.S. defeated Europe 19-9 to win the Ryder Cup at Whistling Straits last year, but the team have not won the competition on European soil since 1993.
The 2023 Ryder Cup will be played from Sept. 25-Oct. 1, 2023 at Marco Simone Golf & Country Club in Rome, Italy.
Johnson is the 30th U.S. captain since the Ryder Cup's inception in 1927. He served as the vice-captain in the last two editions of the competition.
In his first appointment as Ryder Cup captain, Johnson named Stricker the first of his vice-captains.
The six remaining slots on the U.S. team will be captain's picks and will be announced by Johnson following the 2023 Tour Championship.
-Reuters
Japan to play France
Japan will play France for the first time since 2017 when they host Les Bleus in two matches in early July.
The series will begin at Toyota Stadium in Aichi on July 2, with the teams meeting again on July 9 at an unnamed venue, the JRFU said.
Japan reached the quarter-finals of the 2019 World Cup on home soil but did not play in 2020 because of the COVID-19 outbreak, returning to action after 18 months against the British & Irish Lions in June 2021.
The Brave Blossoms won only one of their six matches last year, against Portugal.
France were held to a 23-23 draw at home by Japan the last time the teams met in November 2017.
-Reuters