Latest – Queenstown skier Alice Robinson has finished 22nd in the giant slalom at the Beijing Winter Olympics.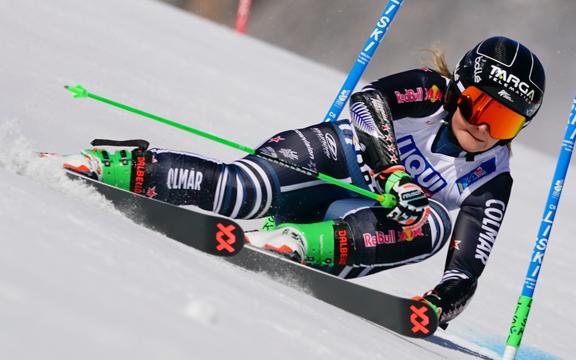 Photo: PHOTOSPORT
Robinson was disappointed in her performance with her challenge over after an error on her first run.
"Run one I was struggling with certain things like grip and at the top I really just couldn't find what I was looking for in the feeling – it was just a battle the whole way down." Robinson explained.
She took some time to reset in the break between the runs and was ready to get back out there after inspection and give it her all in run two. Unfortunately, once again she was unable to find the feeling on her skis that she was looking for.
"I really gave it my best today; I couldn't quite figure out the snow conditions and it just didn't work out. It's very hard to contemplate but it's just sport and I've been skiing really well in Super G and I'm really looking forward to that event. Thanks to all the kiwis for their unconditional support".
Robinson back in action on Friday in the Super-G.
Meanwhile freeskiers Ben Barclay and Finn Bilous narrowly missed out on progressing to the finals of the men's big air.
The New Zealanders landed all three of their jumps, with Bilous finishing in 18th with a score of 155.75 and Barclay finishing in 16th with a score of 162.75. The top 12 progress to finals.
Aces almost undone by bad light
Auckland were almost denied their first win of the Plunket Shield season when bad light forced the players from the field when the scores were tied with Northern Districts.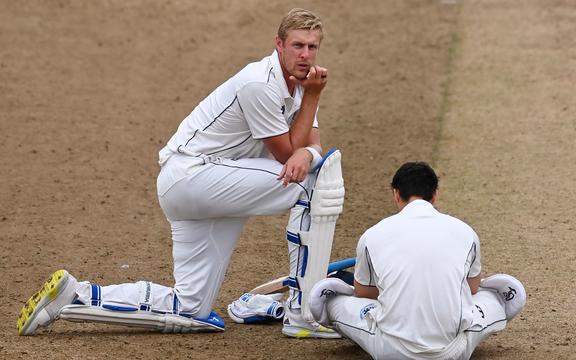 Photo: PHOTOSPORT
Mark Chapman scored an unbeaten half century as Auckland chased down their target of 196 for a four wicket win on the final day at Eden Park.
The umpires stopped play just before 6pm because of bad light with Auckland 195-6.
Chapman and Kyle Jamieson stayed at the wicket for the 17 minutes before the game resumed.
It was Auckland's first game of the competition as they were forced to sit out the start of the season because of Covid-19 restrictions.
Greenwood dropped by sponsor
Manchester United's Mason Greenwood is no longer being sponsored by Nike after the forward was arrested on suspicion of rape and assault of a woman.
The player was later also arrested on suspicion of sexual assault and making threats to kill.
Greenwood, 20, was released on bail last week pending further investigations but he remains suspended by the Premier League club until further notice.
Nike said last week they had suspended their relationship with Greenwood as they were concerned by the allegations.
They have now dropped the player altogether.
"Mason Greenwood is no longer a Nike athlete," Nike said in a statement.
The allegations against Greenwood – including video, photographs and a voice note – were posted on Instagram and later deleted. He was first arrested on Jan. 30 and placed in police custody before being released on Feb. 2.
-Reuters
Colingwood to coach England
Paul Collingwood has been appointed as England's interim men's head coach for the three-match Test series against West Indies in March.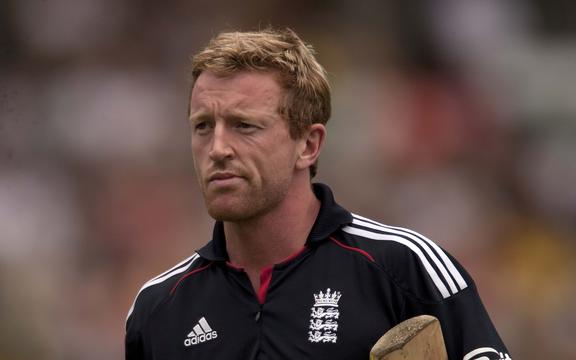 Photo: PHOTOSPORT
Chris Silverwood left his role as head coach last week following England's 4-0 Ashes defeat by Australia.
Former all-rounder Collingwood took charge of England's 3-2 Twenty20 series defeat in the Caribbean last month.
England will arrive in Antigua on 25 February and will play a four-day warm-up match starting on 1 March followed by three Tests.
Collingwood, 45, was part of England's coaching staff at the T20 World Cup and the Ashes.
Silverwood, director of cricket Ashley Giles and assistant coach Graham Thorpe have all stepped down following a run that has seen England win only one of their past 14 Tests.
Sir Andrew Strauss has temporarily taken over from Giles and the former captain has appointed Collingwood.
Joe Root will remain as Test captain, with Ben Stokes as vice-captain.
-BBC
Britain and Ireland to bid for Euros
Britain and Ireland have announced plans for a bid to host the 2028 European football Championship.
The associations have dropped plans to bid for the 2030 World Cup and will focus on the Euros following a feasibility study that analysed the economic impact and estimated costs of hosting major international tournaments.
The bidders will be announced in April while the hosts will be appointed in September, 2023.
Italy are also planning to put forward a proposal to host either the 2028 or 2032 Euros.
Minimum requirements include having 10 stadiums available, with one having a capacity of at least 60,000 and two venues with at least 50,000 seats.
The 2024 tournament will be hosted by Germany.
-Reuters
Women's IPL not far off
A full-fledged women's Indian Premier League could begin as early as next year, with the Indian cricket board saying it is working on delivering the tournament "soon".
A three-team Women's T20 Challenge is staged alongside the men's IPL, but many believe women deserve their own expanded tournament with more teams and players.
The Women's T20 Challenge will continue this year, but BCCI secretary Jay Shah said things would change soon.
The entire 2020 edition of the league and the second half of last year's tournament were held in the United Arab Emirates as India grappled with the COVID-19 pandemic.
This year's IPL will begin in the last week or March and Shah was confident of staging the 10-team league in India.
-Reuters