After clocking an all-time low of US$ 0.233753 per token on December 31, 2021, Pendle (PENDLE) crypto has gained momentum, and its price is skyrocketing.
At the time of writing, the price of the PENDLE crypto was up 168 per cent compared to its all-time low.
In the last 24 hours, the PENDLE crypto has jumped about 65 per cent, and it was trading at US$ 0.62 per token. According to CoinMarketCap data, Pendle crypto's one-day volume has catapulted over 250 per cent.
What is Pendle?
Pendle is a protocol that was first launched on the Ethereum blockchain, and on November 11, 2021, it shifted to Avalanche.
The protocol was created for yield tokenization, and it also serves as an automated market maker (AMM) exchange. As decentralized finance (DeFi) infrastructure is becoming popular, the addition of Pendle boosted Avalanche's DeFi ecosystem.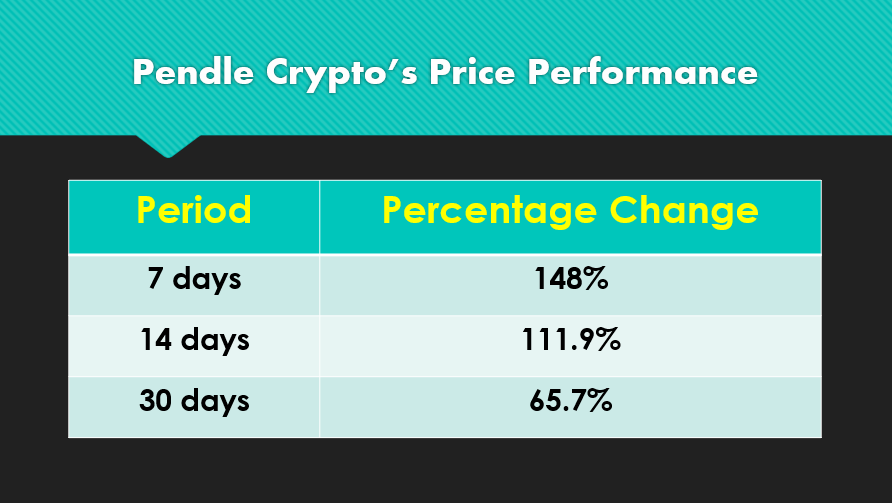 ©2022 Kalkine Media® 
Pendle allows users to trade in future yields without any underlying collateral. The PENDLE crypto is the native token of the Pendle protocol, and it ranked at the 599th position at the time of writing.
Also Read: What is CAP crypto & why its volume soared over 293,665,275%?
The PENDLE crypto has a maximum supply of a little over 251 million tokens, and its current circulating supply is 85.5 million PENDLE tokens.
Bottom line
Avalanche is becoming popular in the cryptocurrency market as it has emerged as one of the leading blockchain networks to offer low fees and is Ethereum Virtual Machine (EVM) compatible.
AVAX is the native cryptocurrency of Avalanche protocol, and it skyrocketed by 2,927 per cent in the past year.
As this network is becoming mainstream, cryptocurrencies and protocols listed on the Avalanche blockchain are getting the attention of crypto enthusiasts.
If you want to get hold of the PENDLE crypto, you can visit cryptocurrency exchanges like DigiFinex, Gate.io, and BKEX to invest in this digital asset.
Also Read: As altcoins rise, know Fantom crypto's price prediction